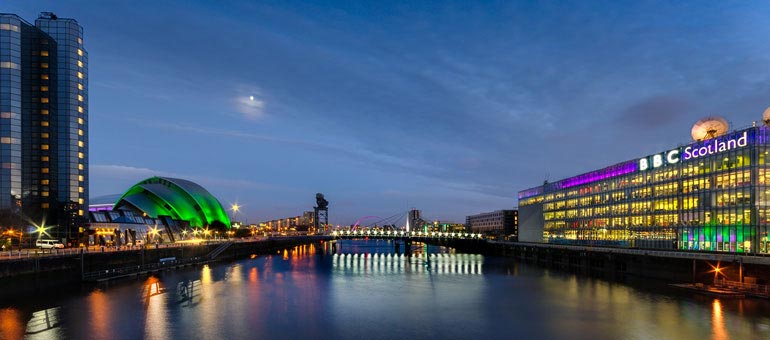 Glasgow is the second largest city in the UK behind London, and is also the biggest city in Scotland, having a total urban population of around 2 million. It is based on the River Clyde, and is Britain's largest seaport. It is a vibrant and cultural city with friendly people and a wide range of amenities.
Those looking to study in Glasgow will discover a variety of courses and with over 130,000 students already studying here, it's definitely a city to check out. Not sure if it's the city for you? This Coursefindr guide takes you through the main universities, accommodation available and everything else you need to know about the Glaswegian social scene.
Universities in Glasgow
Glasgow is home to a handful of universities. These are:
University of GlasgowGlasgow Caledonian UniversityUniversity of the West of ScotlandUniversity of Strathclyde
University of Glasgow
One of the world's oldest universities, the University of Glasgow, has over 25,000 students from more than 120 countries with at least 92% of those who graduate at undergraduate level going on to further study or employment. The University has an impressive reputation as well as a noteworthy library with over 2.5 million items over 12 floors. You'll also find a multi-million pound student services development and good sports facilities. It currently ranks 26th in the latest league table rankings.
Glasgow Caledonian
Alternatively, the Glasgow Caledonian University has 20,000 students and many studying here undertake work placements and internships to enhance their course experience and gain an insight into the working world. Boasting a range of facilities like the award winning Saltire centre, which is the epicentre of campus, a 24 hour computer lab, library and sports centre, Glasgow Caledonian has a lot to offer its students. It currently ranks 99th in the latest league table rankings.
University of the West of Scotland
This University is split up into 4 campuses; Ayr, Dumfries, Hamilton and Paisley. Both the Hamilton and Paisley campuses are based 1 mile away from Glasgow City Centre, so if you are looking to study there, you are reading the right destination guide! The University currently ranks 103rd in the latest league table rankings.
University of Strathclyde
Based in the City Centre, Strathclyde offers students a vibrant and exciting student experience. They offer over 400 courses in various subject areas such as business, science, humanities and engineering. As the University are currently spending over £300 million on improving the University facilities, you will find new buildings on site over the years, like the new Technology and Innovation Centre that formally opened this year. Strathclyde currently sits at 51 in the current league table rankings.
Fee's, Living Aspects & Student Finance
One of the most important things to sort out before you start university is your Student Finance. Trust me, you need to do it! It's not exactly the smoothest process and it can take quite a lot of time, but it will benefit you in the long run. Let's face it, the average university student can't afford 3 years of £9,000 course fees plus living costs. So, whilst we are on the topic, why not start applying for your student finance after you have read this article? Read our guide to student loans and visit the the student finance website here.
Depending on where you live at university, your living costs will vary. For example, if you live at home whilst you are at university, you are bound to have a lot less outgoings than incomings. However, for those that are planning on flying the nest and moving to the university campus, you need to consider your living environment carefully.
The living cost is generally cheaper in the north of the UK, with rent starting at around £60 for private student accommodation, and around £90 for university accommodation.
Those choosing to live on campus in Glasgow can benefit from the student accommodation available at each university. Each university offers different types of accommodation ranging from self catered shared student flats, to private catered single en suite flats. All accommodation offers tight security and wardens, as well as residential assistants living on site 24/7.
University of Glasgow – ranging from £97.50 to £174.86 per week
Glasgow Caledonian – ranging from £98 to £111 per week
University of the West of Scotland – ranging from £85 to £142 per week
University of Strathclyde – ranging from £96 to £137 per week
Alternatively, if you would prefer to live in student digs you'll find flats, studios and other accommodation to rent around Glasgow ranging from around £57 to £165 per week. A few good places to look for student properties are Rightmove, Unite Students and Liberty Living. You might also be interested in the Collegelands student flats and Victoria Hall.
Transport Links
If you're looking to travel home, explore the city or visit friends then you'll need good transport links. Luckily for you, if you choose Glasgow, you will be exposed to loads of great transport options!
There are two main train lines and stations in Glasgow:
Queen Street Station, north of the city centre, which will connect you to the North of Scotland
Argyle Street Station, connecting you to rest of England and the UK with regular trains to London Euston and London King's Cross
Glasgow Caledonian University is within walking distance to Queen Street and Central train stations.
There is also a Subway system in Glasgow, also known as "The Clockwork Orange". For those students that drive, there is also good access to main motorways in the surrounding areas. You can easily get to the M74 to get you to the south, the M8 to get you to the North and the West, and the M80 to get you to the North East.
Events, Venues & Points of Interest
Glasgow is a city bursting with culture and arts, so it's no surprise that it's home to the National Theatre of Scotland, Royal Scottish National Orchestra, Scottish Opera and Scottish Ballet. The 20 museums and art galleries in the city provide attractions, such as Europe's largest civic art collection including pieces by Van Gogh and Monet, which are free to view.
For festival lovers, you can look forward to the West End festival every June. Most tickets are free with exhibitions, performances and screenings providing the entertainment. For live music events, the SSE Hydro is the place to go for well-known artists and acts. The Glasgow Jazz Festival occurs in June bringing jazz, reggae and soul to the city. Ticket prices vary but it's the ideal attraction for muso's.
Foodies can rejoice with a range of food and drink establishments to suit all budgets. You'll find a range of modern Scottish dishes like haggis, to cuisine from around the world. Glasgow is also abundant with street carts, so even if you feel peckish while on the go, you can stop for a bite to eat. Students on a budget can eat for under a fiver at places like Little Italy, a traditional Italian coffee bar and pizzeria, The Wee Guy's Café which is ideal for lunch and Piece, a sandwich bar and coffee shop.
If you enjoy relaxing with a spot of shopping then The Style Mile is the place to go. Outlets include popular retail shops, independent boutiques and designer stores with over 200 outlets open until at least 7pm during the week.
So… the night life?
The good news is that Glasgow is home to some of the best bars and clubs in the whole of Scotland, and a night on the town is a guaranteed success. The bad news is that there are so many bar and club nights in one week that you will have trouble deciding where to go…
If you prefer bars over night clubs then you can head to Sauchiehall Street, designed specifically for students. You can expect a tonne of promoters offering you drinks deals and passes to their bars. You can also try Bath Street, but this has been described as a little more sophisticated with the majority of the guestlist being young working professionals. If you get a chance, visit Tingle, the bar that serves the most crazy shots in town.
For those who love the club scene there's an array of student nights throughout the week as well as the weekend, making sure you don't miss out on your weekly fix. Most student nights in Glasgow boast £1 drinks too, so your bank balance won't even notice a thing… For those of you into house music you should try Chambre69 and Sub Club. If mainstream and RnB is your thing then you can try Kushion, Bamboo, Common, Tunnel and Sugar Cube.
The most popular student clubs tend to be Garage, ABC and Club 520 boasting the newest chart, indie and dance music on the scene. Not forgetting of course, the club nights offered by your student's union bars at both Glasgow and Strathclyde.
Job Prospects
Glasgow is packed with job opportunities for graduates requiring employment and those looking for part time work during their studies. The University of Glasgow has its own careers service advertising vacancies, offering advice and providing the Club 21 internship programme who work with local employers to offer work experience for students.
Glasgow Caledonian University offers a range of career focused courses and work placements for students with strong links to employers in many sectors. The majority of students go on to further study or employment within 6 months of graduating.
For students searching for part time employment during studying, there are many companies such as retail outlets and fast food establishments offering work.
Basically, Glasgow is an exciting city for students…
With good employment links and educational facilities on hand, those wishing to study in Glasgow  will not be underwhelmed by what is on offer. Accommodation is affordable, easy to find and close to facilities as well as campus. Glasgow has a range of things to see and do, so finding something perfect for you won't be a problem. Nightlife is reasonably affordable and there's events most nights of the week.
If you'd like to discover more about the courses provided in this city, search for a course with Coursefindr to find best option for you.
---