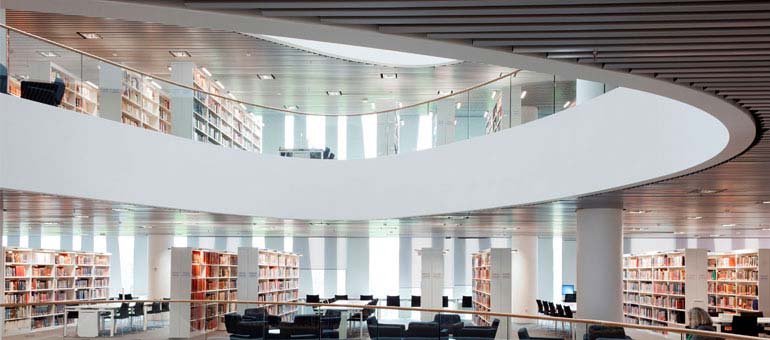 A historical and highly prosperous city, Aberdeen is rumoured to be home to a castle that inspired Bram Stoker to go ahead and write Dracula. Located next to the coast, this beautiful Scottish city is also one of the UK's most northern cities, so if vertigo and vampires aren't a problem for you, you might want to consider studying and living here for the next few years. If so, let's take a look at the low-down on all things Aberdeen for students.
The University Of Aberdeen
There are two universities in Aberdeen:
University of Aberdeen
It was founded way back in 1495, which makes it Scotland's third oldest university. Throughout the ages five Nobel prizes have been handed out for work carried out here. Fast-forward to 2015 and the university is still going great guns, with graduate prospects higher than the country average, entry standards phenomenally high, and research quality top-notch. The University currently sits at 36 in the latest league table rankings. It has a huge library that contains over a million published books and 300,000 ebooks.
An extensive review of the curriculum at the University of Aberdeen was carried out in 2010, with the result being that degrees now have greater flexibility and structure. Additional benefits have also been included, such as the chance for students to choose new cross-disciplinary courses that focus on real world issues. There are 550 first degree programmes on offer for 2016/17 which means the chances are high that your preferred subject is available.
Robert Gordon University
The Robert Gordon University was founded in 1750 when it began life as a technical college. It has been a fully-fledged university since 1992, and currently sits 44th in the UK league table rankings. Graduate prospects are very high, although the University is let down somewhat by under-spending on facilities.
The University works closely with employers to ensure graduates are employable when they leave the University. Scholarships are offered, as are work-based placements. The University recently spent £120million on developing their Garthdee campus, and the University overall has a very solid reputation for student satisfaction – it was ranked as the second best value university in the UK by the Student Value For Money report in 2012.
Fees, Living Aspects & Student Finance
There has been a lot of noise made about the fact that tuition fees now cost English students up to £9,000 a year, but if you already live in Scotland and you're thinking of studying at the University of Aberdeen, you'll be happy to learn that you don't have to pay a single penny in tuition fees. Nothing. Nada. Zilch! Your entire tuition fees will be paid for you by the Students Awards Agency Scotland (SAAS), which is Scotland's equivalent of England's Student Finance.
If, however, you're an English, Welsh or Northern Irish student who is thinking of studying at the University of Aberdeen, you will be expected to pay your tuition fees yourself as you would at any other UK institution. Full-time courses now cost up to £9,000 a year, but you can still apply for Student Finance who will helpfully pay your fees for you depending on your circumstances. Although SF will pay your fees for you, you will have to pay the money back once you have graduated and are earning a certain amount of money. Scottish students do not have to repay their tuition fees and this is the only real difference.
Scottish-born students looking to study at the University of Aberdeen can also apply for a maintenance loan from SAAS to help pay for their living costs, such as rent, bills, travel costs, books and so on. The maximum you are entitled to is £5,750. This is repayable. If you were born in England, Wales or Northern Ireland, you can apply for a series of maintenance loans from Student Finance to contribute towards your living costs. How much exactly you are entitled to comes down to your personal circumstances and the income of your parents, but the maximum any student is entitled to is £8,200 per year. This is repayable.
When you go to university, whether it be the University of Aberdeen or elsewhere, it's likely that you will have to manage your own finances for the first time. This means you will have to carefully budget how much you need each week for accommodation, food, travel, study equipment, as well as socialising. Some students find that their maintenance loan is enough to cover everything, while others take on part-time jobs.
Students who live in a self-catered University Halls of Residence for their first year spend between £360 – £540 on rent each month, £120 on food, and a further £140 on miscellaneous things.
Students who live in catered University Halls of Residence throughout the first year spend between £596 – £656 per month on accommodation (which includes bills and certain meals), £60 on additional food and an extra £140 on miscellaneous things.
Students who choose to live in private accommodation (usually house shares or private flats) during their first year (and beyond) at the University of Aberdeen spend between £280 – £380 on rent, £120 on food, £44 on energy bills and £140 on other costs each month.
General Info About Aberdeen
Aberdeen is otherwise known as the energy capital of Europe, so it's a pretty big deal. It's one of Scotland's most prosperous cities and is known for its cosmopolitan, edgy vibe. As such, it's often seen as the best place for students in Scotland after Glasgow and Edinburgh. It's also the country's third biggest city, yet despite its size it's remarkably compact and easy enough to make yourself at home in.
There are frequent and plentiful bus services that offer student passes. Many students, however, prefer to walk around the city, as well as to and from their halls to campus, because everything's reachable within short distances. Aberdeen has good connections with the rest of the UK, and even has a direct rail service to London. This journey takes approximately eight hours. There are also reliable coach services that link the city with the UK's biggest cities.
Events, Venues & Points Of Interest
Aberdeen is a pretty spectacular place to study and live if you enjoy shorelines, castles, art galleries and museum, ghost-tours, skiing, walking and cycling. Yep, it sounds like a dream, doesn't it?!
Aberdeen has lots to offer students who are a little bit tired of studying and want to do some exploring. The Granite City has castles, archaic cobbled streets (possibly built by the Romans), a stunning harbour, winter gardens, a beach, parks, cathedrals, and a statue of the godfather of Scotland, Mr. William Wallace himself (Braveheart basically. No, not Mel Gibson).
You won't be short of places to shop either. Aberdeen offers students a very accessible and easy going shopping experience so that you don't need to stray too far to buy another shirt for class after leaving yours in the cloakroom the night before. All the major brands are here, as well as lots of independent retailers and vintage stores. Union Street, the city's main shopping mecca, opens you up to a whopping 800 shops, bars and restaurants.
Aberdeen does culture, music and film pretty well too. There are three cinemas in the city, including one on the beach (a cinema which is rather creatively called Aberdeen Beach), a theatre with student discounts that treats you to dramas, ballets and musicals, as well as the City Art Gallery which houses some awesome hidden gems. You can even go skiing in Aberdeen, play golf, watch some football (Aberdeen are basically now better than Rangers), and visit the Maritime Museum for some cool knowledge. Meanwhile, The Tunnels is Aberdeen's best live music venue. Located just off Union Street, it's popular with students and gives a platform to the most happening bands in the underground. Get on it, people.
Nightlife
Okay, okay. We know why you're here: The beer. Fortunately Aberdeen offers a cracking nightlife for students. It's a city that prospers during the day before stumbling home at night.
The Aberdeen Union Bar is always popular with new students. It's been closed down and reopened more times than a dodgy market stall selling cut-price "diamonds," but it always offers fantastic drink promotions and hosts regular fun nights, such as quizzes and karaoke. It's a great place to start any night.
The Union is another popular student bar that is located right in the heart of the city. Only students are allowed in here, so you can definitely be sure that you won't be rubbing shoulders with an ageing, bearded Scotsman who wants to buy you a drink and talk to you about how much he hates Celtic. It looks pretty grand these days too, thanks to a recent £250,000 refurbishing job.
Other bars popular with students include Scream Bar which offers drinks for just a quid during freshers, The Bobbin, which is located right next door to The University of Aberdeen, and Triple Kirks which also has a club upstairs (Exodus). Aberdeen also has franchise-bar Revolution in its vicinity, as well as the more expensive Siberia Vodka Bar where you get the chance to drink vodka like Siberian's (trust me, they know how to drink those Siberian's).
Popular clubs in Aberdeen include techno palace 42 Below, chart oriented Institute, the always swanky Babylon, the cheap as chips Forum, the converted church Priory, and the aforementioned Exodus. Most nightclubs offer cheap entry and very generous drink prices. If you pop to Espionage on a Monday, you get 50% of all drinks. I can't say fairer than that, can I?
So There It Is
Aberdeen is fantastically located by the shore and has a booming economy that makes it an attractive place to live for anyone. For students, it's got a heady mix of academia, culture and booze. If you're considering giving it a shot but would like a bit more info, why not start your search for a university course in Aberdeen now?!
---