The Ultimate Guide To Studying In Birmingham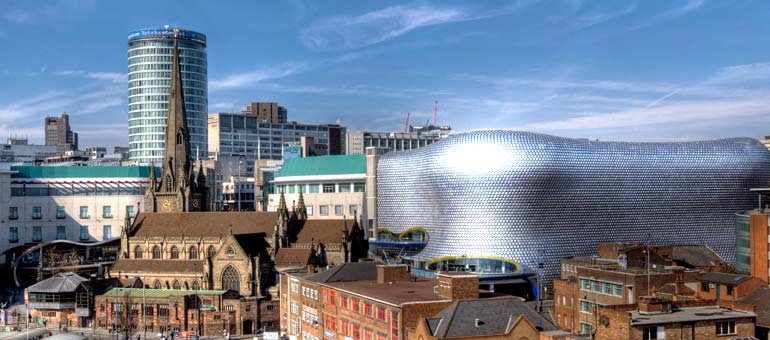 Leaving home and going to University is a pretty daunting prospect for any young person, and the burning questions are always the same, no matter where you are heading. What are the house prices like? What is the nightlife and general culture like? More importantly, what are the drink prices like? If you're considering Birmingham, we decided to make life a whole lot easier for you by giving you the low-down on the UK's second largest city. Because we're nice like that.
Universities In Birmingham
Birmingham is a huge student city, and is in fact the second biggest in the UK. Home to more than 65,000 university students, Birmingham is also home to 5 universities. These are:
Aston UniversityUniversity of BirminghamBirmingham City UniversityNewman UniversityUniversity College Birmingham
Aston University scores very highly for graduate prospects – 76.6% – and is known most widely for its excellent Business and Management, Engineering, and Applied Sciences courses. It comes with its very own on-campus gym, a basketball court, and boasts a massive on-campus library. It's located only five minutes from the city centre by foot and currently ranks 29th in the latest university league table rankings.
You won't be able to miss the University of Birmingham if you pop down to visit the city centre, as it's ideally located right in the heart of the rail and road networks. Home to its own art gallery, featuring works by Picasso and Monet, the University of Birmingham is a popular choice with art students, and is located just 2 miles south of the city centre. The University is proud to rank 13th in the recent UK university rankings.
Birmingham City University is actually really old – we're talking some 170 years old here – but this doesn't mean it isn't still an awesome choice. Currently in the process of moving some of its buildings closer to the city centre, Birmingham City University includes a School of Art, a School of Jewellery and the Birmingham Conservatoire. It comes with nine sites, with the main site lying 3 miles north of the centre of the city. Birmingham City University currently ranks 105 in the UK according to the 2017 Guardian league table rankings.
Newman University was actually only formed as recently as 1968, and is home to 2,895 students. Newman University provides a number of flexible courses and provides both part-time and full-time courses. Historically, Newman University has very high graduate employment rates, but is a bit isolated from the city centre and takes 20 minutes to get there by car. An excellent choice if the hustle and bustle of a city centre is not for you. Newman University currently ranks at 110 in the league table rankings.
University College Birmingham is best known for its courses on tourism, leisure management and hospitality. But it also provides courses on hairdressing, beauty, finance and accounting. Its halls of residents can house up to 872 students, and it is ideally located in the city centre.
Fees, Living Aspects & Student Finance
Ah, fee's. If anything is going to dampen a student's spirit when it comes to applying for their favoured university, it tends to be the fees. The good news when it comes to tuition fees is that they tend to be fixed, no matter where – or what – you're studying. This means that you can expect to pay up to £9,000 per year for a three-year course. Naturally, not everyone can afford to pay that kind of money upfront, and for this reason student finance is a handy option if you cannot afford the fee yourself. If you haven't already set the wheels in motion where student finance is concerned, you should pop along to their website now: https://www.gov.uk/student-finance.
Some students are able to live comfortably in a university's halls of residents during their first year, but student accommodation in general can actually be more expensive than renting a room in a private, shared house.
If you decide to go down the route of student accommodation, there are a number of student accommodations open to you in Birmingham. These include:
The Heights – from £107 per week
Londonderry House – from £122 per week
Curzon Gateway – from £126 per week
Jennens Court – from £136
All are located in the city centre.
General Info About Birmingham
Birmingham is the UK's second largest city, and as such it's absolutely booming as a tourist attraction. It's ideally located for both tourists and students – as well as its own residents, obvs – as it's planted firmly and squarely at the heart of our motorway system. Its rail network, meanwhile, is connected to a mahoosive 500 destinations. So, no matter where you come from – or where you fancy visiting – Birmingham will hook you up in no time.
And because Birmingham is so centrally located, it's only 1 hour 15 minutes away from London by train. Rail links, in short, are awesome, whilst the airport is just eight miles away from the city centre. And in terms of getting out and about in the city itself, buses, trams and trains are the main modes of transport, with some buses running for 24 hours.
If you're a bit of a shopaholic (or move to your student digs without any spare clothes by mistake – yes, it happens), Birmingham is home to all the familiar high street stores we know and love. From H&M to Debenhams, TopShop to Primark (yes, we know you shop there really), Birmingham is an excellent city for making sure you get the stuff you need.
Events, Venues & Points Of Interest
As the UK's second largest city, you'd be forgiven for expecting Birmingham to be home to a healthy number of world class venues and regular, stimulating events. Thankfully, it doesn't disappoint!
If you like your art – and particularly if you like it modern – The Water Hall Gallery of Modern Art will be right up your street. A brand new venue for modern art, The Water Hall is fast becoming the go-to venue for contemporary art in and out of the city. For British art, the Ikon Gallery is Birmingham's choice venue, whilst the Birmingham Museum and Art Gallery is home to a wealth of Pre-Raphaelite paintings.
Other cultural things to do in Birmingham include popping along to the Hippodrome, where the Birmingham Royal Ballet is based, as well as Star City, a huge complex that is home to a whopping 30-screen cinema.
But Birmingham is not just the ideal place for culture vultures; the Birmingham O2 Academy is a popular concert venue that is only a 15 minute walk from Aston University and in the past has played host to bands as huge as Kings of Leon and Arctic Monkeys.
Mainstream music not really your thing? No problem, because Birmingham also boasts a treasure trove of smaller venues that showcase lesser-known bands, such as The Institute and Hare & Hands, a live entertainment venue where UB40 made their stage debut.
Birmingham is also popular with theatre goers, and regularly hosts new plays and musicals across the city. One of the best theatres in the city is The Blue Orange, whose line-up this year includes stage adaptations of Jane Eyre, The Turn of The Screw, James and The Giant Peach and Edward II.
Nights Out
Okay, this is the bit a lot of you have been waiting for. The night life. Okay, maybe we're meanies for keeping this until right at the very end, but we didn't want you to nip out to the pub before reading about the galleries and the ballet first, did we?
You'll be pleased to know that Birmingham is one of the liveliest cities once the sun goes down, and has a booming club scene that is supplemented by some cool drinking dens, ace comedy clubs and exciting music venues.
When it comes to pubs and bars, Birmingham pretty much covers the entire spectrum. From chic cocktail lounges to cheap student nights, there is something for everyone. Whether you're strapped for cash, or loaded because your first student loan has come in, you'll never be stuck for somewhere to go. Uptown or downtown, Birmingham has got the lot.
Our top bar picks include The Jekyll & Hyde, a quirky Alice in Wonderland-inspired bar that is very anti-mainstream; The Victoria, a lively bar that offers unbeatable hangover food, and Sobar, which offers the last word in chic. And if you want to move onto a night club, Gatecrasher is a dance club that offers an indie night on Fridays, whilst Snobs is Birmingham's Number 1 alternative club. There are also the chain clubs you've probably already heard all about, including Walkabout and Revolution, who start the parties on Monday and don't stop until the following Sunday. Get in.
Of course, Birmingham isn't just about the nightclubs and booze-pits; it is also home to over 50 restaurants, a lot of which are located in the infamous 'Balti Triangle'. No prizes for guessing the type of food found there. Just try not to overdo the curry if you live in cramped student accommodation, yeah?
So There It Is …
In a nutshell, Birmingham is an excellent place to study for any young student. Offering a wide range of Universities, and a hearty mix of nightlife and culture, Birmingham is also ideally located in the centre of England. If you're seriously considering studying in Birmingham but would still like a bit more information, check out the courses available in Birmingham using Coursefindr.
---