The Ultimate Guide To Studying In Coventry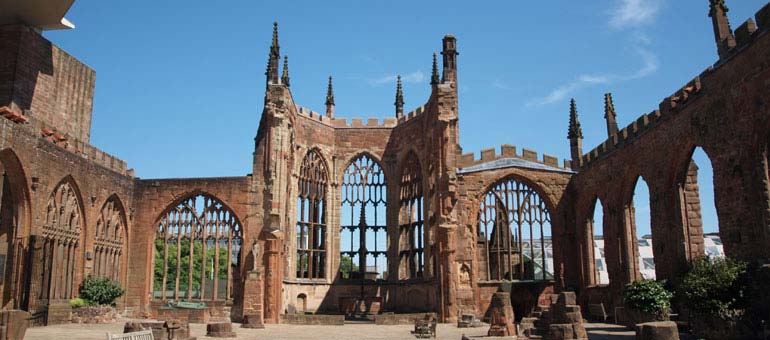 Coventry is one of the UK's biggest cities but despite its sheer size, the city commonly features in "Things You Didn't Know About Coventry" lists than "Things You Knew About Coventry". However, discovering untapped secrets in a new city is one of the best things about studying at university. If you're thinking about making Coventry your place of study for the next three years, let's take a look at all you need to know.
Universities In Coventry
Coventry has two universities:
Coventry University
Although Coventry University only officially became a university in 1992, its history goes right back to 1843 when it was known as the Coventry School of Design. After 1954, it became the Coventry College of Art until it became a polytechnic in 1980. It was granted university status in the early nineties and the rest is (recent) history.
Coventry University scores very highly for student satisfaction, and also has near-outstanding graduate prospects. Indeed, employability is central to the student experience. Research quality is on par with similar-sized universities in the country, while degree completion stands at 85%. Entry requirements, although dependent on the subject, range from AAB-BCC. The overall reputation of the university grows year on year and it is currently ranked 15th in the Guardian 2017 league table rankings.
The purpose built campus is located ideally in the heart of the city centre.
The University of Warwick
The University of Warwick is one of the best universities in the UK, currently sitting 9th on the Guardian 2017 league table rankings and has never dropped outside the top ten. Entry standards, research quality, student satisfaction, graduate prospects and degree completion are all super-high, with the only real thing letting the university down being their green score, a ranking of UK universities by their carbon footprint, where the University of Warwick score poorly.
It currently has 29 academic departments and almost 60 research centres spread across four faculties:
Medicine
Arts
Social Sciences
Science
The University has strong links with local businesses and is responsible for attracting a lot of recent investment to the city of Coventry. Entry requirements depend upon the course, and it has a balanced mix between undergrad and postgrad students. All degrees are built around optional and core modules.
The contemporary campus can be found some 3 miles from the centre of the city.
Fees, Living Aspects & Student Finance
We all wish that university was totally free, even more so now that the government has made fees more confusing to solve than a Rubik's cube. But the maximum amount you will be paying for any course in Coventry is £9,000 per year. The exact amount you will pay comes down to the degree you're taking, but you will find that most full-time courses are in this financial ball-park. If you can't afford to pay for your course yourself, Student Finance offers to pay them for you.
For more information about student loans, read our ultimate guide to student loans article.
Some students find that their maintenance loan covers their entire living costs, while others rely on extra handouts from their parents or they bag themselves a part-time job in Coventry. Whether your maintenance loan is enough to cover your entire living costs will largely come down to how you plan and manage your budget. You will need to carefully allot how much money you need each week for accommodation, utility bills, food, study materials, booze, and so on.
The average first-year university student living in Coventry spends around £500 per month on accommodation including bills, £160 per month on food and general housekeeping, £30 per month on mobile phone bills, £20 per month on study materials, £120 per month on socialising, and £20 per month on transport and travel.
Most first-year students in Coventry choose to spend it in a student halls of residence. These buildings offer 24/7 security, and they give you the chance to meet like-minded people straight away. The only real downside is that student halls of residence are often more expensive to live in than a private house-share. Here are some of the most popular halls of residence in Coventry:
Mercia Lodge – from £115 per week
Study Inn Coventry – from £141 per week
Merlin Point – from £135 per week
General Info About Coventry
As we mentioned earlier, Coventry is one of the UK's biggest cities. Formerly a very productive medieval town and later a major force in cycle manufacturing and the motor industry, it is still home to 19 Grade I listed buildings and 25 Grade II listed buildings. And thanks to a recent multi-million-pound scheme called The Phoenix Initiative, the city lovingly merges contemporary revitalisation with its proud history. As such, you will find a city that is buzzing with culture and regeneration.
Because the two universities in Coventry are situated so far apart, students from each only tend to bump into one another if plans have been made between friends. Warwick's students live mostly in the Leamington Spa area, while Coventry students generally gather in and around the city centre. There are reliable bus services for all, with a student discount rate offered between the centre and Warwick University. London takes around 1 hour and 15 minutes to reach by train, while a direct train from Coventry is provided to many of the UK's biggest cities.
Events, Venues & Points Of Interest
As a curious student, it would be hard for you to ever get bored in Coventry. It's rich in cathedrals and castles, awash with parkland and sporting venues, and is home to enough bars, restaurants and shops to keep you entertained.
In terms of shops, Coventry does very well. It is home to the first ever IKEA store in Britain, as well as a traditional indoor market. If you enjoy shopping in indie stores, Far Gosford Street is a historic part of the city that is home to a clutch of unique businesses. Good quality restaurants include Turmeric Gold Restaurant. Blue Bistro, The Ocean and Noodle Bar. The city centre is largely pedestrianised, so you won't have much trouble getting from place to place.
There are three ace cinemas in Coventry: You'll be able to catch the latest blockbusters at the Odeon, take in a few arty films at Warwick University's Film Theatre, or try something outside the city at the Showcase Cinema. Meanwhile, the Belgrade Theatre regularly plays host to plays and musicals, while the charming Warwick Arts Centre puts on operas, classical concerts and ballets. There are plenty of live music and comedy venues, too, including The Arches, The Crescent Theatre, The Jam House and The Actress & Bishop.
On the edge of the centre, the Cathedral links the old quarter with the newly regenerated quarter. The Herbert Art Gallery and Museum offers some intellectual stimulation, while the Ricoh Arena is your number one stop for sporting events, including football. Going a little further outside the city you can take a walk around the War Memorial Park whenever you fancy catching some fresh air and downtime.
Nightlife
You'll never be short of a night-out in Coventry because there's always something going on right throughout the academic year. Like with any city, the best student nights are during the week, and if you know how to pre-drink on a budget like a boss you'll be able to stretch your maintenance loan across the whole nine months.
Now, if you've recently been to Ibiza, you'll probably think Coventry's nightlife isn't up to much. But providing you're just after a cheap, fun and even dirty time with your pals, you'll have a ball.
Monday nights often mean Kasbah for most students, a lively club with 3 different rooms. It also houses a smoking garden and its very own shot bar. There is even a VIP Lounge if you're feeling super flushed and super special.
Mortimers is great on a Tuesday night. The club pumps out r 'n' b, hip hop and pop, and comes with a pole for when you and your mates down your third jaeger bomb and reckon pole dancing upside down to Kanye is a good idea. Wednesday's in Cov are all about Phoenix, an indie club with 2 bars, and if you're still going at 4am, you can pop into The Oak for last orders before stumbling into math class.
Other popular clubs and bars for students in Coventry include Rainbows, the city's friendliest gay bar, Platinum or even The Students Union itself.
If, however, you fancy just pubbing it now and then, top pubs and bars in the city include The Town Crier, Inspire, City Arms, Drapers Arms and Castle Grounds.
So There It Is
If you like what you've read and think studying in Coventry might well be for you but don't know what you want to study, why not start your search for a course available in Coventry here.
---