The Ultimate Guide To Studying In Edinburgh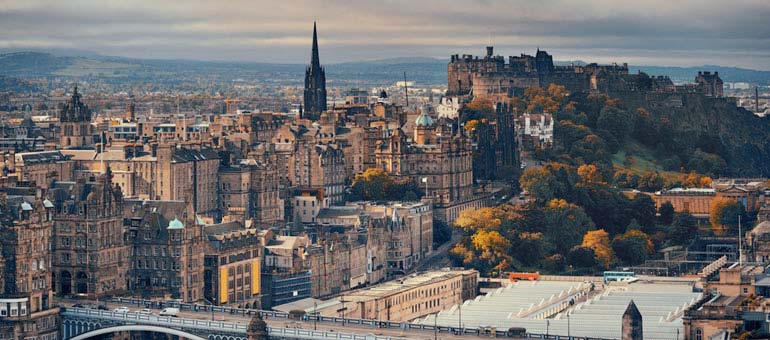 Edinburgh is the capital of Scotland and attracts thousands of students from near and afar to its universities each year. The city is well known for hosting the biggest art festival in the world; Edinburgh Fringe Festival, that takes place every August.
Edinburgh is a fabulous place for students to study due to being visually stunning and hugely cosmopolitan. The city is vibrant, eclectic and alive with culture and academia.
And just incase you were considering Scotland's best city as your student home for the next 3 years, we thought we'd clue you up on everything you need to know about the home of castles and haggis. So without further ado, let's crack on with our ultimate guide to studying in Edinburgh.
Universities In Edinburgh
The total population of Edinburgh is is 492,680, whilst the full-time student population is approximately 40,000. This means that Edinburgh is a booming student city which offers an excellent choice of Universities. There are three universities in Edinburgh:
The University of EdinburghHeriot-Watt UniversityEdinburgh Napier University
The University of Edinburgh
The University of Edinburgh is not only the oldest university in Scotland, but it is also the sixth-oldest University in the entire English-speaking world and boasts an excellent graduation record.  The University is proud to be ranked 22nd in the UK by the latest Guardian university league table rankings. Moreover, some 20 Nobel Prize winners studied here, so you'll be in fantastic company if you decide to make it your home for the next few years.
Heriot-Watt University
Heriot-Watt University is another old, prestigious university and dates back to 1821, when it was known as the School of Arts of Edinburgh. It became a university by Royal Charter in 1966 and is known to be the vocational university in Scotland's capital. It is home to almost 8,000 on-campus graduates, as well as 31,000 students worldwide. Other campus locations include Dubai, Malaysia and, um, Orkney. The University currently ranks at 27th in the 2017 Guardian league table rankings.
Napier University
Napier University is something of a newbie, and last year celebrated its 50th birthday. It is currently home to 17,000 students, with 5,000 of these being international students. It offers a wide-range of courses, from Accounting to Wildlife Biology, and is very highly regarded. Edinburgh Napier University sits at 70th place in the latest UK league table rankings.
Fee's, Living Aspects & Student Finance
One of the reasons a number of students are put off going to University is the fear of fees. The good news, though, is that no one expects you to actually empty your pockets and pay the entire cost of your course yourself. And especially not Edinburgh.
If you are moving away from home to study then you will need to consider your living arrangements, and how much it is going to cost you. During their first year of studying, most students prefer to live in student halls. It's sociable, helps them to meet new like-minded peeps, and it's also a lot easier than moving into a house share on the outskirts of Edinburgh with a bunch of strange strangers. The only real drawback with living in halls is that they cost a heck of a lot more than living in a house share. The positive? They're right in the centre of the city, and they're super safe. Naturally, if you decide to live in halls you'll need to be very careful with how you manage your money, and it may be that you need to take on a part-time job to make sure you can still eat.
There are a large number of student halls in Edinburgh. Here are our top picks:
Chalmers Street – Located 0.8 miles from the city centre, £155 per week
Potsburgh Court – Located 0.7 miles from the city centre, £154 per week
Sugarhouse Close – Located 0.5 miles from the city, centre, £141 per wee
Lady Nicholson Court – Located 0.6 miles from the city centre, £226 per week
Panmure Court – Located 0.4 miles from the city centre, £193 per week
General Info About Edinburgh
According to the Daily Telegraph, Edinburgh is the UK's best city, and has been for two years running now. Yup, it's even better than London. Take that, Queen! It is well-known for being one of the planet's most gorgeous cities, and is renowned for both its culture and its history. Home to seven hills, cycling can be a bit of a task (we recommend you don't attempt to cycle all seven hills in one day), but the city centre itself is fairly easy to walk around, whilst there are cycle lanes to make bike riding safe.
There is a bus service that is comprehensive and makes getting out and about nice and easy, whilst travel cards are also available – though it's worth noting that Edinburgh travel cards are actually kinda expensive. Trams are also available, and have been since 2014, whilst Edinburgh is also home to a National Express coach network that is linked to all of the UK's major cities. London is some 373 miles away, though it can be reached in less than 5 hours by train.
Events, Venues & Points of Interest
Fewer cities in Europe do culture quite like Edinburgh. The city is home to a wide range of art galleries, including a wealth of contemporary art ones. These include the somewhat remote Sierra Metro, a not-for-profit gallery that acts as a platform for artists who are just starting out; Embassy, a gallery that represents the city's grassroots community; and the brilliantly named FruitMarket, a gallery that is located right in the heart of Edinburgh which showcases some of the best modern art from around the world.
Culture vultures can also get their fixes at the Museum on the Mound, a five-year old museum built on an old bank that showcases the 4,000 year evolution of money. For anyone who likes their history to be a little more gruesome, there is the Surgeons' Hall Museum, where there exists on display a wallet made from the human skin of a "famous" Edinburgh body-snatcher. Ew. Other artefacts on display here include a glass jar containing gangrenous fingers. Ahem. For something a bit more normal, you can retreat to the National Museum of Flight, a museum that relays the story of the famous Wright Brothers, who developed the first ever plane.
Edinburgh is also home to the world-famous Edinburgh Castle, a historic fortress that dates back to the 12th century. It's still standing proud and imposing, and is known to have suffered at least 26 sieges in its poor, embattled history. Why can't no one just leave it alone?! Other things to see in the great outdoors of Edinburgh include Arthurs Seat, a hill that has been described as a "mountain in virtue of its bold design", and St Giles' Cathedral, a distinctive building that dates back to the 12the century.
In terms of venues and events, sports fans certainly can't go wrong with Murrayfield Stadium. Here you will find the Edinburgh Rugby team, as well as lots of Scottish Rugby Union. Edinburgh is also home to two iconic football teams, Hearts and Hibernian, who you may end up taking into your hearts (sorry). Edinburgh also boasts 3 huge golf courses, the largest artificial ski slope on the continent, as well as 4 mainstream cinemas, 3 independent/art house cinemas and plenty of theatres. You simply can't go wrong in an eclectic city that mixes culture with sport.
Fantastic. But What About The Bars?
Yup, we know you've been waiting for this bit. Beer time! The great news is that Edinburgh is home to a fine array of boozers and night clubs, and the even better news is that there are plenty of student clubs out there if you want to keep a lid on your spending. So if you're as poor as a pauper and waiting for your student loan to come through, Edinburgh might be the place for you.
In terms of night clubs, you really can't go wrong in a city that is well-known to be the spiritual home of new year's eve. If you like to get your kicks to a bit of indie rock, clubs include The Liquid room, a lovely little place that is open 7 nights a week; The Cabaret Voltaire, a den-like music cavern that is a huge hit with students; and The Hive, a cheeky little club that is known to be the party place for anyone who loves to rock out. Drinks start out from £1.
If, however, you fancy a bit of pop & retro instead, no problem. Clubs for you and your cheesy pleasures include HMV Picture House, where the only thing stickier than the floors is that bit of Jaeger on your shirt; City, a club where the shots cost a quid and Five will make you get down; and GHQ, another cheap as chips club where drinks start from a pound and make their way up to £1.20. Bargain.
Edinburgh also plays host to many other types of music, including rap, hip-hop, house, r&b, dub step, techno and drum and bass. If you're more of a pub person who prefers to chat and beat everyone at pool, our fav Edinburgh haunts for students include Malone's Irish Bar, The Last Drop, The Regent and The Sheep Heid Inn. More than anything, Edinburgh loves its real ale, so if you're really into this hipster craft beer craze at the moment, you can't go wrong here.
So There You Have It …
Edinburgh is officially one of our favourite cities in the world, and it's the ideal place for any student to study for the next 3 years. Mixing culture with music, academia with sport, and castles with body-snatchers, it's nailed this cosmopolitan, eclectic thing to a tee. Use the Coursefindr search to find your perfect course in Edinburgh.
---