The Ultimate Guide To Studying In Cambridge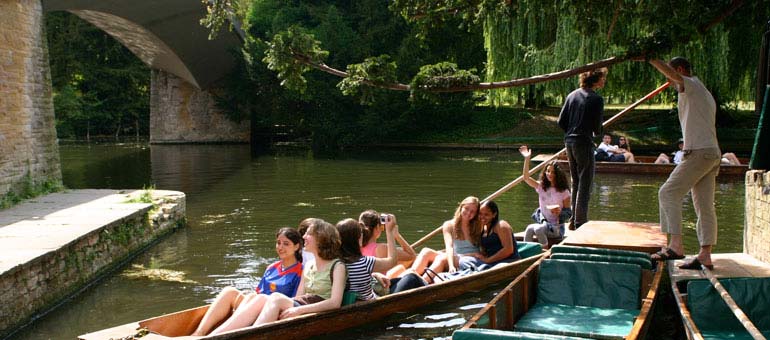 Cambridge is home to some of the world's first ever universities, as well as some of the world's most famous. Anyone who is anyone has studied in Cambridge, including Isaac Newton, Lord Tennyson, Edward VII, and half of Monty Python.
Choosing to go and study in Cambridge, then, must mean you're made of some pretty stern stuff. But as well as knowing you have all the right academic qualifications, there are still plenty of things you need to know that will help you not only decide whether studying and living in Cambridge really is for you, but also which university in Cambridge can satisfy your mettle. So let's take a look at what you can expect from an academic and social life in Cambridge.
Universities In Cambridge
Cambridge may well officially be a city, but it's not really much bigger than a town. As such, it has a real compact feel to it and contains just two main Universities:
Anglia Ruskin University
Compared to the grand old University of Cambridge, Anglia Ruskin University is still a mere babe in arms that was opened as a School of Art in 1858. It didn't officially become a university until 1992, eventually adopting the name Anglia Ruskin University in 2005.
It's rise has been rapid though, and it was christened the UK Entrepreneurial University of the Year in 2014. Modern and super cosmopolitan, it is home to over 35,000 students from more than 170 countries. With a focus on business, it's often the go-to university for budding entrepreneurs.
Anglia Ruskin University is renowned for its focus on business and entrepreneurial spirit, and was awarded the UK Entrepreneurial University of the Year in 2014; so it probably comes as no surprise that Cambridge is now the centre of the forward-thinking "Silicon Fen" industries. Silicon Fen is home to a number of hi-tech businesses, with a focus on electronics, software and biotechnology.
University of Cambridge
The University of Cambridge is one of the UK's oldest functioning buildings, and was one of the world's first ever universities. Founded way back in 1209 at a time when Shakespeare wasn't the bane of most students' young lives, the University isn't just a proud historic entity, but continues to excel as a leading academic light.
With a worldwide reputation for unparalleled academic achievement, the University is home to world-class research facilities and teams, and each year welcomes gifted academic's who will one day pretty much change the course of the world. If rubbing shoulders with future politicians, journalists, novelists and even royal family members sounds like just the ticket, the University of Cambridge is probably for you.
Fees, Living Aspects & Student Finance
The good news about choosing to go and study in Cambridge is that, despite the Universities' extraordinary reputations for developing world-class academics, researchers, writers and so on, the tuition fees are on a par with most other English universities. This means that you can expect to pay £9,000 per year for your course, regardless of what you choose to study. The upshot of this is that you are accessing some of the UK's best resources, teachers and support for a reasonable price.
When it comes to accommodation, you're pretty much faced with two options: You can choose to live in one of the University's halls of residence, or you could opt to live in a private house as part of a house-share. Many first year students prefer halls of residence because of the security they offer, as well as the fact that it gives them a chance to meet new people. The downside to living in a halls of residence is that they are often more expensive than living in a private house. If you do decide to go down the route of student accommodation, here are the top student accommodations available in Cambridge:
Study Inn – from £108 per week (based on two students sharing)
Chestnut House – from £170.00 per week
The RailYard – from £148.00 per week
General Info About Cambridge
Cambridge is one of the smallest cities in the UK, and has a population just shy of 125,000. Students make up around 20% of this overall population, and because of the city's compactness, Cambridge has a real "student feel" about the place. Although the atmosphere can sometimes feel cramped, it often adds to its charm; and away from the hustle and bustle of the busy city streets, Cambridge gives way to vast and beautiful areas of greenery.
Because the city is flat and compact, many residents and students prefer walking and cycling. Should you want to use them, buses are reliable, though they can be expensive. Travel cards are available, while cars are not ideally suited to the pedestrianised streets of the city centre. Cambridge is ideally suited in terms of its connections, with London sitting just 60 miles away, while the main train station provides services to the UK's major cities, usually requiring no more than 1 or 2 changes.
Events, Venues & Points Of Interest
Cambridge is a very old place, with settlements going back as far as prehistory. As such, you'd naturally expect there to be a high number of points of interest in the old city – and it certainly doesn't disappoint.
If you want to take in pretty much everything that Cambridge has to offer, you could do a lot worse than take one of the fantastic City Tours when you first arrive. This will help you to get acquainted with the place, getting a feel and a flavour for what the city is all about. You can also tag along on one of the Boat Tours that are on offer, as well as the Sightseeing Tours. These tours will introduce you to the historical River Cam (possibly short for Cambridge!), Anglesey Abbey, which has been described as "a jewel in the crown of National Trust properties, and the Bridge of Sighs.
If you're something of a culture vulture, you certainly won't be short of things to do in Isaac Newton country. Here you will find museums, art galleries, historical chapels, the Centre for Computing History, the Scott Polar Research Institute – and much more. Fitzwilliam Museum is popular with students, and is totally free to enter and walk around, while Kettles Yard Gallery is also a top pick and will be ideal for anyone who quite fancies a bit of modern art.
Other attractions in Cambridge to keep your mind off your exams and hangovers include the Arts Picturehouse, a quaint cinema that screens foreign and cult classics; the Cambridge Corn Exchange, an arts and entertainment venue that is popular with bands, dance troupes and theatre groups; as well as a wealth of shopping centres that are home to high-street stores and independent shops.
Nights Out
Cambridge might not be a mecca for students who are looking to go raving every night of the week (see Manchester for more glow sticks than you can shake a, um, normal stick at), but it's still managed to retain a fair few good pubs and a handful of cheap as chips clubs.
It is worth mentioning, though, that while Cambridge scores very highly with students in terms of its academia and teaching levels, it doesn't perform quite so well when it comes to nightlife. As one student once commented: "Obviously, Cambridge isn't world renowned for its clubbing scene, but there's a reason that we get the grades."
The good news is that the Cambridge nightlife is at least pretty much dominated by students, and there is generally something for everyone on offer. Though you might not find the wide variety of super clubs that you'd find in London, a lot of the colleges offer student unions that pump out solid dance and trance throughout the week. If cheese is more your thing, Life and Cindies are a hit with students who want to let their hair down and a have a good time.
The problem Cambridge has at the moment is that its most happening clubs have recently closed down; Kambar provided a haven for anyone with a love of alternative rock music, but has now closed its doors. For this reason, pubs will be your friend in Cambridge. Thankfully, there are still a high number of watering holes that are friendly, homely, and which sell ace craft beer.
So There It Is …
In a nutshell, Cambridge is an excellent place to go and study if you want to knuckle down and be a high achiever. With many Cambridge alumni entering top jobs, Cambridge is the place to go if you want to excel and perhaps even change the world. Home to a gamut of culture and history, it might not have the super clubs that a lot of students yearn for, but it's certainly got the teaching quality. If you'd like to find out more, why not search for courses in Cambridge with Coursefindr today…
---