The Ultimate Guide To Studying In Manchester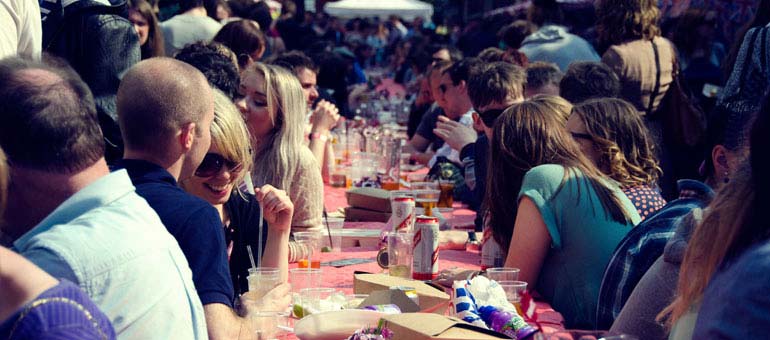 Apparently it always rains in Manchester, everyone loves Oasis, and you're either a Red or a Blue. These are just some of the popular myths that abound in one of the UK's most thriving student cities. But did you also know that some of our nation's' finest cultural icons and creative minds have studied in Manchester. Including anarchic comedian Rik Mayall, Clockwork Orange author Anthony Burgess, and dance music kings, the Chemical Brothers?
The truth is that Manchester is one of the most happening and cultural cities in Britain. Academics feel just as home as musicians, artists and general eccentrics do. If you choose to study there, you'll be in fantastic and very diverse company. Let's take a closer look at what Manchester has to offer for students.
Unis In Manchester
Manchester is a booming student city, which attracts thousands of students each year. It is home to two major unis, as well as a group of specialist ones. The two main unis are:
University of Manchester
If you've ever switched onto University Challenge on a dreary Monday evening it's highly likely that you've come across Team University of Manchester. Well known for being the brain boxes who won the tournament in both 2012 and 2013. University of Manchester is also known for its strong academia and focus on the humanities, such as philosophy, linguistics and science. Situated in the heart of the city centre, it's a sprawling university that lies right next to the Manchester Museum. University of Manchester ranks 31st in the latest league table rankings.
Manchester Metropolitan University
Jokingly referred to as the "crap version of University of Manchester" (by cheeky University of Manchester students, of course). MMU is actually also known as the Manchester School of Art. It is a mecca for creatives, and provides top-rate filmmaking, art, graphic design and illustration courses. It is a hundred yards closer to the city centre than the University of Manchester. The University has recently completed work on some stunning, brand new state-of-the-art complexes. Manchester Met currently ranks 60th in the latest Guardian league table rankings.
The remaining specialist Manchester Universities are:
Manchester Business School
Manchester Computing Centre
Royal College of Music
Each one is ideally located in the city centre, whilst the popular University of Salford is literally just a short walk away.
Fee's, Living Aspects & Student Finance
Fee's. Nothing dampens a student's spirit more. Fortunately, tuition fees are usually fixed, regardless of where and what you are studying. This means that each student should expect to pay £9,250 per year for a three-year course, as well as their living costs. Of course, not every student is expected to stump up those eye-popping figures themselves, which is why student finance arrives to save the day. Yay!
Many students choose to live in student halls during their first year. However, because you spend the first year meeting new people, it's a lot easier to opt for halls of residence for the first year, and arrange to live with your mates for the second and third years.. A student living in student halls in Manchester should expect to spend, on average, £13,200 over the entire 42-week academic year.
There are number of student halls available in Manchester, with the most popular ones found on the university campuses themselves. The most popular ones include:
Mansion Park – from £138.00 per week
Liberty Point – from £122.00 per week
Weston Court – from £91.00 per week
Student Castle – from £142.95 per week
Student Castle is actually located in one of Manchester's tallest towers and offers stunning views of the city.
General Info About Manchester
Manchester is the UK's third largest city. Anyone who has visited or lived there have attested to the fact that it is is one of their fondest love affairs. Famous mathematician, Alan Turing, who cracked the enigma code during WWII moved and lived there. Whilst the infamous Madchester era of music, spawned the the likes of the Happy Mondays, Stone Roses and Oasis.
But there is much more to Manchester than mere nostalgia. Located right next to the brand new BBC and ITV studios, Manchester is at the epicentre of the UK's television media. It is home to the busiest bus route in Europe that journeys from the city centre into Fallowfield, where many students live.
It is also a bustling shopping city, with scores of high street stores heaving day in day out with happy shoppers. Perhaps the greatest thing about Manchester is its celebration of multiculturalism, with the Curry Mile known to contain the biggest concentration of South Asian eateries outside India itself.
Manchester is also well known for being a city of learning and culture. It is home to a number of museums and libraries. And the great thing? They're all situated within a stones throws of one another.
Events, Venues & Points of Interest
Manchester is a hive of activity, and there is always something going on for everyone. If you're something of a culture vulture, Manchester is home to numerous art galleries to keep your senses ticking over. The big ones include Manchester Art Gallery, which boasts a fine collection of Impressionist works, and Whitworth Art Gallery. Situated on the edge of the city centre, Whitworth is at the forefront of curating the best contemporary art around, and was actually one of the UK's first art galleries to purchase a Picasso. What great foresight they had!
The city is also great for movie lovers. As well as the usual mainstream cinemas that showcase the latest blockbusters, the city is also home to Home, a brand new cinema, theatre and art space that shows all the latest foreign flicks and art house movies. Home also showcases experimental theatre, so if the arts are your thing you might want to head on over there as soon as you've unpacked your bags.
Music lovers will also feel right at home in Manchester. The Manchester Academy and Manchester Apollo regularly host some of the world's most exciting bands. Whilst the Manchester Arena often invites some of the planet's top performers to its stage, such as Beyonce, Lady Gaga and The Vamps. Or, if you prefer classical music you can hit the Bridgewater Hall, where you will find Mozart, Chopin & Beethoven being played out by the Manchester Philharmonic and Halle orchestra.
And if you fancy something to help you celebrate the fact that your exams are over, Manchester hosts Parklife each year; a three-day music festival situated in Heaton Park. Plenty of top DJs and bands are invited to play each year, with last year's bill including Fatboy Slim, A Tribe Called Quest and RagnBone Man.
It All Sounds Great … But What About The Pubs?!
Okay, we know this is the bit some of you lot have been waiting for. The great Manchester boozing scene. Legend has it that Liam Gallagher once went on a 2 week bender in Manchester, which probably gives you a good idea of the kind of booming nightlife you should expect. The great thing is, because students sustain many of the bars and clubs, the student nightlife in Manchester is absolutely belting.
Popular student clubs include the legendary Fifth (formerly Fifth Avenue), indie hotspot 42nd Street and Motown mecca Venue. All these clubs offer cheap entry, cheap drinks and you can usually find at least one of them open on any given day of the week. Fifth in particular is partial to a good old-fashioned foam party now and then (usually bank holidays), and is jam-packed with both students and regular civilians until the early hours.
If you like your dance music to be a bit more specialised, you probably already know about the Manchester rave scene. Once home to the infamous Hacienda nightclub, Manchester still boasts a number of world-famous super-clubs for anyone who likes to get their rave on. These include The Warehouse Project, Sankeys, and Venus. Each club is well known for attracting the big names in dance music, including Moby, Chemical Brothers, and Richie Hawtin.
If, however, you prefer a drink in a bar, you simply can't go wrong in England's third biggest city. The quaint and cosmopolitan Northern Quarter is tailor made for hipsters, artists and musicians, and is home to a cluster of trendy, hip and artistic pubs and bars. Our favourites include TV 21s, Dry Bar and Night and Day Cafe. For anyone who craves live jazz and blues, there is Matt & Phred's jazz bar, which offers live music each night of the week. Or, if you prefer a bit of live comedy, comedy club Frog & Bucket offer free entry to students. Can't go wrong with that, can you?
So There It Is …
Manchester is basically a great place to study and live. The universities are modern and forward-thinking, whilst the city centre is bustling with activity and plenty of part-time job opportunities. Manchester is very much a city in tune with its past that is always moving forward. To find out if you could end up studying in Manchester, search for your perfect course with Coursefindr.
---