How to Prepare for a University Interview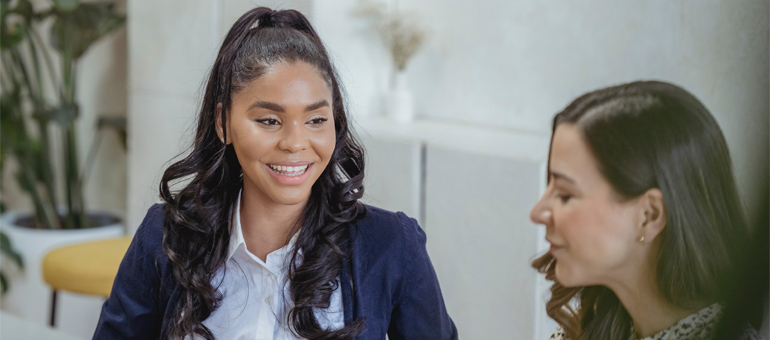 Many universities like the opportunity to meet the prospective students before sending out conditional or unconditional offers. Attending an interview not only allows university staff to compare candidates, but it also gives you the chance to showcase your skills, knowledge and passion in person, and transcend your personal statement.
As a young adult, you might not have attended many interviews, which could make this a daunting prospect. However, taking the time to prepare yourself and understand the interview process can make you feel more confident going into your interview.
How will I know if I have been invited for an interview?
There are a couple of ways that universities get in touch with prospective students to invite them for an interview. One of these is through the UCAS Hub. You will be able to see any relevant information through your account on UCAS. When viewing your interview invite, you should see options to accept or decline your interview, as well as requesting to change the time or date of your interview.
Another way some universities choose to contact interview candidates is through email. If a university contacts you directly, they will provide you with all of the information you would require. You can usually use this email to get in touch with the university if you have any questions prior to your interview.
Virtual interviews
Since the Covid-19 pandemic, many universities have started offering online interviews to prospective students. If you are invited for a virtual interview, you should ensure that you have access to a laptop or computer with a webcam and microphone, a strong WiFi connection, and have installed the video conferencing platform that you will be using.
The university that has invited you for an interview will let you know ahead of time any requirements for your meeting. These will include timings, the platform you will use, as well as the format for the meeting.
How should I prepare?
There are few things you can do to prepare for your interview. Taking the time to get things together ahead of the day can help you feel more comfortable when the day does arrive. Here are some tips about things you can do ahead of time:
Find out where the interview will take place – using Google maps is a good way to scope out the general area. Many universities also provide a campus map on their website, and some even have virtual campus tours, which could also be useful.
Sort out your travel and accommodation – if you are travelling a long distance or need to stay overnight, it is a good idea to arrange this in good time. Not only will you feel more comfortable, but you might also be able to save some money by booking things in advance.
Ensure your laptop or computer is setup – if your interview is going to be held online, checking that your software is up to date and your computer is working correctly ahead of the interview day is helpful. This gives you time to fix any issues that might arise, and could make the day less stressful for you.
Research your course and university – having a good understanding of the course you have applied for, as well as the university itself, will help you to answer any questions you may be asked about why you chose the course, or what you like about the university.
Think about any questions you have – making some notes about specific things you want to speak about, or questions you may wish to ask can allow you to focus entirely on having a good conversation with the interviewer. It also means that you will remember to ask all of the questions that are important to you.
What should I wear?
Whilst you are not being judged on your appearance or your fashion choices, it is important that you are dressed appropriately and comfortably for your interview. This can mean different things to different people, and will also differ depending on the course you have applied for.
The easiest way to look presentable is to wear a pair of smart trousers or a skirt, and pair these with a shirt or blouse. Any clothes you wear need to be comfortable, and it can be useful to also show a little bit of your personality too, so don't focus too much on only being dressed appropriately.
If your course involves an audition or physical activity, you will need to ensure that you wear something that is comfortable and easy to move around in, as well as still being appropriate.
If there any specific requirements about clothing for your interview or audition, your university will inform you of this in their correspondence ahead of the day.
What should I bring with me to the interview?
What you should bring with you will depend on your interview. If you have applied for a creative, arts, or design course, you may be required to present a portfolio of your previous work in your interview. If you are applying for a music course, you might need to take your instrument or some printed music sheets, and if you are applying for a dance or movement course, you may need to take a previously prepared music to accompany your audition.
If there are no specific requirements such as the above, it is recommended that you take a notepad and pen with you. This will allow you to have any pre-prepared information and questions, as well as make any notes on the day.
Can I ask questions at my interview?
Most interviewers will encourage you to ask questions, either during or after the interview. Whilst you might prefer to prepare these questions ahead of your interview, it is also okay to ask any questions that have come up during your visit or virtual meeting. Speaking to a teacher or careers counsellor at your sixth form or college can give you some ideas about what you might want to ask.
Search for degree courses.
Search for masters courses.
Search for online courses.
---