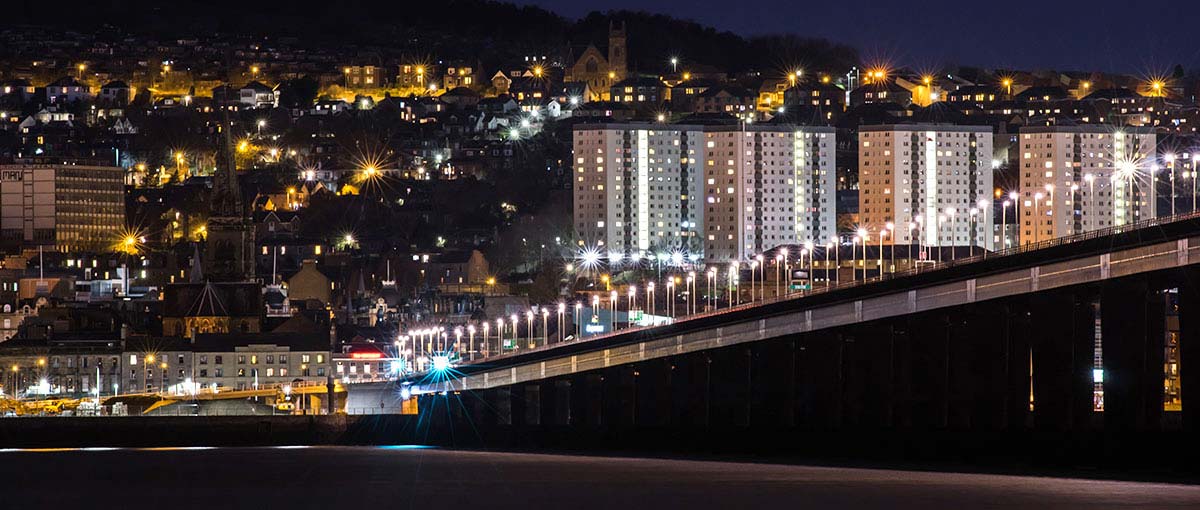 Located on the banks of the River Tay, Dundee is Scotland's fourth biggest city. Beautiful and historic, anyone spending their student lives here gets to enjoy the best of both the city centre and the surrounding wistful countryside. With two excellent universities to choose from and a happening nightlife, Dundee represents an interesting alternative to Edinburgh and Glasgow. Let's take a closer look at what the city has to offer.
Universities In Dundee
There are two universities to choose from in Dundee:
University of Dundee
The University of Dundee is one of Scotland's oldest universities, and was founded back in 1881, becoming a College of St Andrews University six years later. It didn't become a fully independent university until 1967 however, which means it will celebrate its fiftieth anniversary next year.
The main campus is situated right in the heart of Dundee, and is just a few minutes walk away from the major high street where all the shops are. The university is currently ranked 35th in the 2017 league table rankings. It scores highly for research quality, student satisfaction and graduate prospects, while 86% of students go on to complete their degrees.
Over 200 courses are offered by the university. Most are flexible, and students can even change their degree specialism as late as the second year. Art and design, engineering and the life sciences make up some of the courses on offer.
The student union here is well worth a mention; it's been voted number 1 in Scotland for the last 4 years, and claimed fourth spot in the whole of the UK two years ago.
Abertay University
Abertay was originally known as the Dundee Technical Institute when it was first founded in 1888. In 1902, the Scottish authorities claimed it to be one of the first "industrial universities" in the country.
The university is based right in the centre of Dundee, with all the buildings clustered together on a very compact campus. Buses are frequent, though it takes just a few minutes to get from uni to the shops.
Aberay university currently sits 86th in the latest league table rankings. Graduate prospects are high, while 77% of students go on to complete their degree.
Four-year degree programs are offered, but students have the option to take an accelerated degree which will allow them to complete their course in three years. The university is divided into 4 academic departments:
School of Arts, Media and Computer Games
Dundee Business School
School of Science, Engineering and Tech
School of Social and Health Sciences
Fee's, Living Aspects & Student Finance
We'd love to be able to tell you that university is totally free, and guess what? We can!
Unlike in England, a Scottish university's tuition fee is covered entirely by the Students Awards Agency Scotland (SAAS) – provided you're a Scottish national, that is.
This means that if you study in Dundee and are from Scotland, you won't be asked to contribute a penny towards the cost of your course.
There has to be a catch, right? Maybe you have to repay everything once you graduate? Or maybe you're expected to climb Ben Nevis as a contribution?!
Nope, no catch!
If, however, you are Welsh, English or Irish, you will have to pay for your tuition fees in Dundee yourself. You can apply for funding from Student Finance, who will pay your fee's for you in the form of a tuition fee loan if you are eligible (and most students are). This loan is repayable once you graduate and are earning more than £21,000 per year.
You can also apply for a maintenance loan from SF that will help to cover the cost of living during your tenure. The exact amount you are paid will come down to personal circumstances, but the most any student can receive a year is £5,750.
Scottish students need to apply for a maintenance loan from the good people at SAAS. Maintenance loans may a significant contribution towards your living costs while you're at university. To make sure you don't spend it all within a few weeks, your loan is deposited into your account in three separate instalments:
September (once you've registered)
January
April
Unlike UK-based students, Scottish students can receive as much as £8,200 per year from SAAS. It is all repayable, however.
However much you receive, and whether or not you choose to supplement your income with a part-time job, you will need to make sure that your money stretches as far as possible. Students need to spread their cost of living across food, study materials, socialising, transportation, rent, bills and so on.
The estimated cost of living for students in Dundee is around £7,000 per year, with a large chunk of this going on accommodation. Many students find that they overspend during the first week or two as they find their feet, but soon settle down. Students in Dundee typically spend around:
Food – £120 per month
Accommodation – £200 – £600 per month
Socialising – £75 per month
Phone – £25 per month
Incidents – £20 per month
It should also be noted that the cost of living here is around 11% lower than the United Kingdom's average, making it the 10th most cost effective student city in the UK. Read more about the most cost effective cities in the UK here.
In terms of where you live, most first year students choose to live in halls of residence, whether private ones or those provided by their university. Although student halls tend to be more expensive than house shares, it gives you a chance to straight away meet like-minded people, and generally helps you to get into the swing of things. If you're hoping to study at the University of Dundee you'll be able to choose from seven halls of residences, with the largest being Heathfield accommodating over 400 students every year. Healthfield costs £139 per week for a standard room sharing with 5 other students. If you're looking for somewhere a tad cheaper to live you can pay £122 per week to live at West Park Flats which accommodates 140 students and is located between the Medical School and the City Campus.
Students that are planning on studying at Abertay University can pick from four halls of residence. The cheapest is the Economy Room at Lyon Street Halls with prices starting at £75.24 per week where you will live in a 2 bedroom flat with your own room, sharing a bathroom and a kitchen with your flatmate. However, if you're looking for something with a bit of luxury you can apply to live in an en-suite room at Meadowside Halls for £108.31 per week.
Some first year students decided instead to live in a private halls of residence. Below is a list of the best private halls in Dundee:
The Hub
Campus Apartments
Keiller Court
General Info
Dundee is the 51st most populous area in the UK, and it's also wee Scotland's 4th biggest city. It's hugely proud of its history and heritage, but it's also looking forward to the future; thanks to recent investment that has cleaned the place up, the city now looks fresh and contemporary, and can offer students top-notch culture, shopping centres, entertainment, quality cuisine – and, of course, pubs.
The city of Dundee is well-serviced by public transport. Getting around on foot is easy, too, thanks to a compact and heavily pedestrianised city centre. Railway links are good, and there are direct services to London, York and Newcastle. A train to Glasgow or Edinburgh, meanwhile, takes around 1-2 hours. For anyone who can afford it, Dundee airport provides regular flights to England's capital city and has recently started flying to Amsterdam!
Both universities are situated in the heart of the city.
Events, Venues & Points Of Interest
Dundee is ideally situated on the banks of the Tay, while the stunning Highlands are a short drive away. As such, getting out and about and making the most of your down time is easy.
If you're a culture vulture, the Dundee Contemporary Arts Centre regularly hosts plays and films, while you can take in some ballet and dance at the Whitehall Theatre. The Verdant Works, meanwhile, offers a unique take on history, while the McManus Galleries is your go-to place for historical art and the Dundee Contemporary Arts for modern art. Science buffs will also be interested in the Mills Observatory, the UK's only full-time observatory available to the public.
There are two cinemas here; an Odeon and a Multiplex, both of which are home to fifteen screens that show the latest blockbusters, as well as a few films you may not have heard of.
Retail therapy, meanwhile, is provided by the Wellgate and Overgate centres.
There are plenty of great places to eat out when you're feeling flush and not too hungover, with our top picks including:
Agacan (packed with local art and excellent grub)
Avery and Co (welcoming staff and fresh ingredients)
Parlour Café (quirky little café, usually busy!)
Tartan Coffee House (Scottish cuisine with your coffee?)
Edge of the city retreats include the historic Broughty Castle, Camperdown Country Park, and the University of Dundee's very own Botanic Gardens.
Nightlife
Refreshingly, the University of Dundee offers a totally free night bus for students who want to head out after dark. This bus service is restricted to the city's boundaries and is really useful and really popular. Use it if you can!
Once you do stumble out of your student digs for the night with your half-empty can of cider still in your hand, you'll be pleased to know that all the best pubs are situated without spitting distance of your uni. Most of these are on the banks of the Tay, which affords them an excellent view on sunny spring evenings.
If you fancy a club (lol "if"), you're not going to be spoiled for choice in Dundee, and you may find that once you and your squad take a liking to one, it's probably going to be the same one you return to until you start your second year and disown it because you're now all sophisticated.
Fat Sam's is a constant student fav, with Wednesday's being its most popular student night. It also doubles up as a gig venue and occasionally welcomes in some reality TV stars (usually on a Saturday night). Liquid is Dundee's biggest mainstream club; it's absolutely massive, comes with booths and intimidating doormen that refuse all riffraff. Underground, meanwhile, is a cool basement club that plays everything from rock to RnB.
So There It Is…
Dundee looks a lot better than it did a few years ago, and is nowadays a burgeoning student-friendly city.
---