Studying In London: What You Need To Know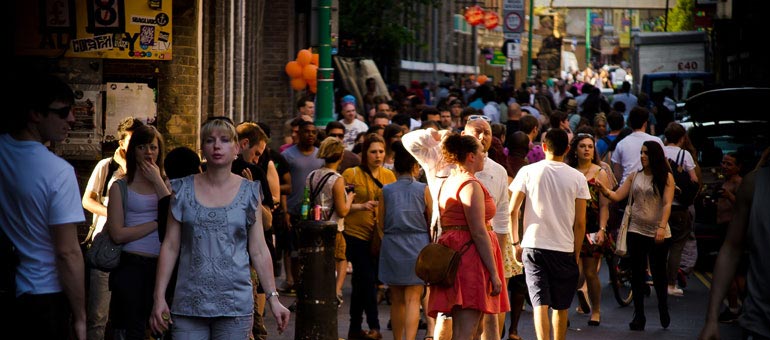 Moving to a new city to study can be a daunting prospect for students. Particularly for students who come from small towns or villages, the transition to a sprawling metropolis is not always an easy one. Moving to London, the 24th biggest city in the world by population, is on another level, not least because of how expensive it can be. Yet, most students will admit to choosing to study there, not so much because it's a challenge, but because of what it offers them. From top class universities to an exhaustive list of museums and galleries that enrich the student experience, London has it all. It's where young people simply want to be.
Naturally, we all need help when it comes to finding our feet in a new place. We need someone to put an arm around us, point out the places that will help us to feel at home, explain the modes of transport available to us and, more importantly, tell us where we can get drunk for under a tenner. London, more than any other city, is a veritable maze that, once unravelled, is an unrivalled treasure trove rich in culture, learning – and partying. Whether you want to know where to live, how to get to uni by river, or where you can go to escape your house-mates addiction to daytime TV and pot noodles – whilst remaining entirely within your student budget – we've got you covered.
The Universities
You may already know that there are a LOT of universities in London – over 50 to be precise. We haven't got time to give you the low down on each one, so here are the highest ranking universities in London:
Imperial College London
Currently ranked 7th in the UK by the Guardian University League Tables, Imperial College London is situated in South Kensington. It is very well known for it's excellence in science and technology courses, it's extensive medical centre and a prestigious business school. The University has some interesting alumni including the CEO of Rolls Royce, Sir Alexander Fleming, and the Prime Minster of New Zealand.
University College London (UCL)
UCL is located a short walk away from Soho and Oxford Street and has a Guardian 2017 League Table ranking of 14. The institutions offers a wide range of courses and is home to many international students (around 50% of the student body).
London School of Economics and Political Science (LSE)
LSE has recently been ranked 12th in the UK according to the Guardian, and is the only institution in the UK offering courses purely in social sciences. Again, this university has a highly culturally diverse student body with many international students based on campus. It is located in the heart of the city and boasts excellent student learning facilities.
Getting Around
London is so big it's divided up into an incredible nine travel zones – which is probably nine more than anywhere you might be coming from. Travel zones are fairly simple to grasp once you get going, and their importance when using public transport should not be mis-underestimated. Zone 1 is Central London, with each subsequent zone expanding outwards from there until you arrive at Zone 9, which is the outer edges of the city. When travelling in London, you can purchase either an Oyster Card or a TravelCard, both of which offer the most convenient – and cheapest – means of travelling through London. Oyster Cards, which come with a 30% student discount, are valid for all travel zones, but TravelCards are only valid for the zones you pay for.
Your Oyster and TravelCards can be used on the Tube, DLR, buses, trams and railway services throughout London. Trams in particular have recently grown in popularity with students and commuters alike, with them becoming a more frequent, more reliable and more spacious mode of transport. Yet for anyone planning a day out in London who doesn't fancy the hustle and bustle of public transport, you can hire a so-called 'Boris Bike' from any one of the 700 docking stations located around London. They're handy, cheap and offer a more pleasant experience than the Tube at rush hour.
River buses also offer a unique travel experience in London. They run from early in the morning until the evening, and you can either use your Oyster Card, buy a one off ticket, or – if you're to be using one regularly – buy a season ticket. They offer a relaxing, comfortable travel option – you're guaranteed a seat, meaning there is none of the rush for a seat that comes with being on the tube – and you can enjoy the view from the Thames as you sip your coffee, catch up with your work, or just chill out with your music.
Places to Live
During their first year of uni, a lot of students choose to live in student halls of residence. Described as offering the quintessential uni experience, they're convenient, relatively inexpensive, and help students to meet new people and quickly make new friends. But if you choose private accommodation, you can expect to pay upwards of £170 a week in London and so will need to be more careful with how you manage your money.
Camden is notoriously cool, and if you choose to live here you a) get to make your mates jealous and b) will be privy to everything cool and quirky that is happening around you. It's quite literally a hotspot for live music, comedy, food and drink, as well as all things artistic, bohemian, and, well, generally cool. Amy Winehouse used to live here. So did Walter Sickert, an artist people once thought was Jack The Ripper. Moving swiftly on (he's long dead, so don't worry, he won't come knocking at your door) it's home to the famous Camden Markets, where hidden treasures are constantly being unearthed, and, if you like diversity, fashion and all things vintage, Camden may well be the place for you.
Alternatively, if money is slightly tighter and stretching your student loan is proving difficult, the rapidly improving East End of London may be an option. Having attracted significant investment and expansion in recent years (the Olympic Park is based here), it looks better than ever, and student property prices are still greatly affordable. It is also home to pubs and clubs that are cheap and cheerful.
Westminster is one of the more vibrant parts of London. Along with an array of trendy bars and restaurants, it is also home to the National Gallery, the West End, St James's Park and Tate Britain. Situated in Central London and on the doorstep of the University of Westminster, it's an attractive option for students with a little more cash in their wallets. Moreover, what you spend on accommodation, you save on travel as so much is just a walking distance away.
Nightlife
Whether you like to party until the early hours with the sound of techno blasting in your ears, prefer to pride yourself on uncovering 'secret' whiskey houses that no one else knows about, or crave live comedy and surreal cabaret, London has something for everyone. From regular student nights, where you'll find yourself buying 5 Jagerbombs for a fiver before telling everyone to follow you to the dance floor, to after parties that keep on going until the next month, London comes alive at night and doesn't stop until you want it to.
For anyone who is serious about their dance beats, Fabric is where the big guns play. Techno stalwarts Boys Noize play here, as do Joy Orbison and electronic music legend Richie Hawtin. Usually staying open until 7AM, there is something huge on every weekend, with DJ's playing across 3 very packed rooms. Alternatively, there is Pacha, a club that aims to bring the Ibiza vibe to London, as well as the famous Ministry Of Sound.
Like in all major cities, London is home to a plethora of 'hidden' bars that can be located via hard work, ingenuity, and a little helping hand from those in the know. The Doodle Bar, a hub for creatives and artists, vacates a former dairy warehouse. To get there, you have to traverse a darkened alleyway, and the only nod that this unassuming place is indeed a drinking den is a neon sign that says 'Bar.' Inside, you can partake in ping pong and life drawing (and drinking), and regular live comedy and music is provided. Of a similar ilk is Freud Bar, an underground cocktail bar where access is only allowed once you've descended a metal staircase that feels as though it's leading you into a seedy basement. Inside, however, you are met by a dizzying array of inventive cocktails, not to mention a place brimming with people. There are loads of bars like this – you just need to ask around. If they ask who sent you, just don't mention us. These guys prefer to keep everything on the hush-hush.
For an alternative night out, we recommend Madame Jojo's, a former strip club that now hosts regular entertainment nights that includes burlesque, cabaret, comedy, belly dancing, rockabilly and more. With the slightly sleazy décor that adds to an unparalleled atmosphere, the events here range from the ridiculous to the borderline insane. It's a fabulous venue for good times – and there many more like it.
Things To Do In London
As you're going to be in London for at least 3 years, you're going to need something to do during the day – besides all the coursework and drinking, that is. Coming highly recommend for anyone with more than a passing interest in art and culture are the large number of art galleries contained in the city.
As well as the famous National Gallery, which is always renewing its exhibitions, making sure you get to cram in as much art as possible during your tenure, there are the popular galleries situated in London's diverse and dynamic Brick Lane. Brick Lane Gallery showcases some of the most exciting emerging artists around, featuring an array of fine multimedia pieces, photography exhibitions, paintings and contemporary sculptures. Brick Lane itself also offers markets, street food, ethnic restaurants and festivals, so that it is easy to make it your second home. One visit and you'll be wondering where all the time went.
London is also home to some fantastic parks which allow you to escape the hurly-burly nature of the city and indulge in some relaxation. As well as offering an expansive, peaceful space, London's parks are also home to regular concerts, festivals and open-air theatre events that keep things interesting. In the autumn, the park's' colours become beautifully evocative, so if you're looking for some inspiration for your art project and believe that London's urban sprawl can't satisfy you, retreat to a park and think again.
Moreover, the capital is home to dozens of pop-ups that can keep you busy all year round. From vinyl-only record stores in Hackney, to Turkish restaurants and alpine lodges, London's pop-ups are often seasonal based, so when it comes closer to Christmas you can enjoy a mulled wine at Forza Winter, and when summer shows its face you can watch a movie under the stars at one of London's many outdoor cinemas. These cinemas come and go each year, with the latest greatest being housed at Battersea Power Station. If you keep your eye out, you'll be unearthing gems left, right and centre. Toy Story 4 whilst the sun sets on the horizon, anyone?
Ways To Get Home From London
Living and studying in London can be tiring for anyone, particularly young students, so it's important that you have good, reliable transport links to home where mother is waiting for you with her cooking and a big hug that says 'please don't leave me again!'.
London is home to more than 10 railway stations which provide excellent links to all major towns and cities in the UK. Because there are a large number of railway stations, you will need to know which one services the area of the UK you are heading to. If, for example, you live in the North East, you will depart from Kings Cross. If you are heading home to the North West, your station will either be St Pancras or Euston. The good thing is that all these major rail stations are located in Central London, and getting to them is either a quick tube or bus ride away. If you book a month or two in advance, you will be saving yourself a wealth of pennies.
Alternatively, the Megabus is a popular choice among cash-strapped students who make regular journeys back home. Return trips to and from London cost less than £20, and the bus services most major towns and cities in the UK, from Aberdeen to Yeovil. Naturally, the journeys take much longer than rail, but as long as you have great music and coffee, what's the worst that can happen?
Education Outside Uni
If you want to learn more about the world around you, whether it be the science behind matter, the latest in modern art, or the British involvement in the Second World War, London has a myriad of museums and galleries that cater to your cultural and educational needs. Most of them are free, and the exhibitions they house are extensive and exhaustive. From a scarring yet hugely illuminating Holocaust exhibition in the Imperial War Museum, to an examination into Ancient Iran, the cradle of civilisation, at the British Museum, each exhibition is eye-opening and offers the perfect antidote to anyone looking for a bit of culture and learning. Some exhibitions are permanent, some are temporary, but all are awe-inspiring.
Situated in London is also the world-famous London Library, where subscription gives you access to over a million books, covering subjects from philosophy to history, religion to medicine. Anyone can apply for free membership, so if you're looking for somewhere peaceful to study away from your house-mates and their addiction to Jeremy Kyle, there is no better place than the hallowed, echoing halls of the city's main library.
Conclusion
Studying and living successfully in London is all about having the right attitude. If you immerse yourself in the city, your student experience will be wonderfully enhanced. As we've shown, London needs only to be as expensive as you want it to be. With the right attitude – and the right budget – the UK's capital city is a young person's dream. Go live it!
Start your search for university courses in London now.
---