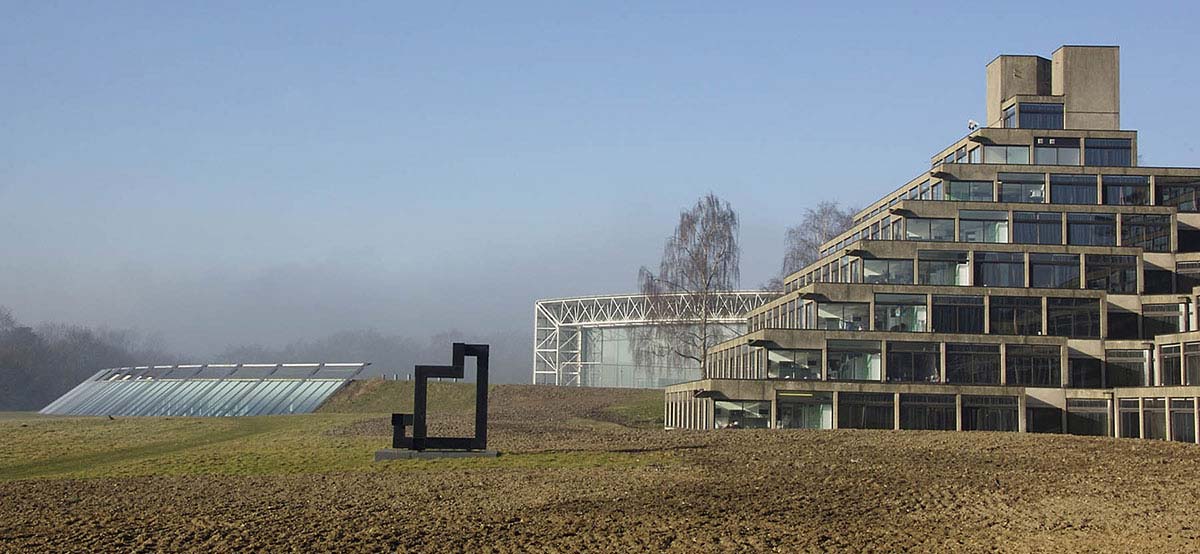 Located in the beautiful county of Norfolk, Norwich is one of the UK's most eastern cities. Close enough to the coast so as to offer easy-access to days out at the seaside, it's also got a nice, compact city-centre feel to it. Vibrant, forward-thinking and densely populated, it's also home to a pair of universities and a whole lot of attractions for students. Let's take a closer look at what what this medieval city has got to offer.
Universities In Norwich
There are two universities in Norwich:
University of East Anglia (UEA)Norwich University of the Arts
University of East Anglia (UEA)
The University of East Anglia is one of the UK's top performing universities, and currently sits 14th in the latest league table rankings. It scores very highly for research quality and student satisfaction, while 92% of students go on to complete their degree.
The campus, which is located just 15 minutes from the city centre, recently benefited from millions of pounds worth of investment, and now incorporates a range of award-winning buildings, state-of-the-art facilities and research hubs.
Although entry requirements differ from course to course, students need to have at least a C in GCSE English or Maths. Most modes of study are full-time, while a good number of courses offer the flexibility of study abroad, as well as a year in a relevant industry.
UEA ranks highly for teaching standards, while notable alumni includes Douglas Carswell MP and Tupou VI, the present King of Tonga.
Norwich University of the Arts
Norwich University of the Arts is a specialist university that focuses on art and design, media and architecture. It was officially given full uni status in 2012, though has existed as a school for higher education for 171 years.
The University is made up of seven buildings, all of which are located right in the centre of the city and is just a ten minute stroll from the main train station. The University offers three separate areas of accommodation for first year students.
Notable alumni includes Turner Prize nominee Glenn Brown and Bernard Meadows, a modernist sculptor.
Fees, Living Aspects And Student Finance
Is there anything that can kill the buzz of applying for university than working out how much it's going to cost? Probably not (apart from your mum asking if you want her to visit you every other weekend to check you've been doing your washing).
Although most courses in Norwich nowadays cost £9,000 per year, the good news is that help with your funding is at hand. Student Finance is your place to go to apply for funding.
Read our student loan guide for everything you need to know about the student loans process.
However you cover your cost of living, managing your finances sensibly is possibly something you'll be doing for the first time when you go to uni. Although lots of students set up a student bank account which includes a fairly generous overdraft, careful budgeting is a sensible idea if you're to make your loan stretch as long as possible.
The cost of living for the average student in Norwich is as follows:
Rent – £82 per week
Food and drink – £23 per week
Utilities – £14 per week
Books and course materials – £5 per week
Gym membership – £1 per week
In terms of where you'll live during the first year, most students choose to move into a student halls of residence. There are lots of advantages if you go down this route: You'll get to meet like minded people straight off the bat, pay your bills with your rent, and enjoy 24/7 security. Moreover, most student halls are located right in the heart of the city centre and are just a few minutes stroll from the universities.
However, there is also the option of moving into a private house share with fellow students, which is often cheaper and still gives you the chance to meet new people. Some students also choose to live in a private house share because they don't want to live in the city centre.
General Info
Norwich was one of our most important cities in medieval times, and today continues to be at the forefront of change and progress, blending historical interest with contemporary sophistication.
The city has a total population of 133,000, with students accounting for 15,000. It's one of the UK's smallest cities, but still has a lot going on, from ancient attractions to modern pubs, bars and restaurants. There are direct trains to London, though reaching more northern cities can be tricky; for example, a trip to Manchester usually first requires a train to London.
The local bus service covers the whole city, and student discounts are offered. Norwich City is the main sporting attraction, though they have just been relegated from the Premier League!
Winters get cold, thanks to biting easterly winds blowing in from the North Sea, while the coast is reachable in less than an hour by bus or train. Perfect for those searing summer days when all you want is an ice cream and a sandcastle!
Events, Venues And Points of Interest
Whatever time of year it is, there is always something to do in Norwich, a booming regional capital that is just two hours away from London by train.
The music scene here is thriving, and live music aficionados will feel right at home. There are intimate cafes found down alleyways, as well as huge theatres that play host to open-air events. Live music venues include The Crypt, which stocks quality wines and cocktails, The Blueberry Music House and the Waterfront, which offers drinkers gorgeous waterfront views, while there is also the Platform Theatre for plays and all things creative, as well as the Norwich Theatre Royal.
There are lots of cinemas here, too; for all the latest blockbusters, there is Vue, while Cinema City is actually one of the biggest indie cinemas in the whole country. Here, you will be able to watch the latest and greatest foreign films and art house cinema.
Points of interest are plentiful in this medieval city. The Normans arrived here hundreds of years ago, and their mark is still prevalent. Check out the Castle and Cathedral if you love your history, while the Castle's museum is also worth a visit. The Sainsbury Centre for Visual Arts, meanwhile, can boast works from art masters such as Degas and Picasso.
If you want to head outdoors, Go Ape is an adventure activity course for anyone who wants to get their hands dirty, while the Bishop's Gardens is a hit with students who just want to chill out.
But lots of students find themselves exploring the towns that surround Norwich. Great Yarmouth is a gorgeous seaside town that is easy to reach by bus or train, while market towns such as Loddon, Harleston and Diss are must-see spots for anyone who wants to get away from the hustle and bustle of the city for a while.
Nightlife
You'll have only been in your halls for a week before your liver is crying out for help. At the same time, your Facebook is absolutely stuffed with invites to Norwich pubs and clubs, so much so that Facebook thinks you've been hacked.
This is because the Norwich nightlife is seriously cool for students. Let's take a look at the best it has to offer.
One of the smallest but more pleasant clubs in the city is Lola Lo. It sells fairly pricey cocktails, but comes with some posh toilets and an ace dance floor. On a Monday night, the entry is free until 1am, while drinks generally don't cost much more than £3. Thursday's Let's Kill Disco is a popular night; it's free before 11PM and £4 after.
Wonderland is the city's most popular super club. It's absolutely massive (well, for Norwich. Londoners would sneer and call it quaint), comes with three rooms – and karaoke. Monday night is your best student night; Revival costs a fiver during freshers and comes with "dancers, inflatables and more." Guess you'll have to wait to find out.
The LCR, though, is the Norwich students real home proper. Everyone who has drank in Norwich has embarrassed themselves here at some point down the line, and the best nights for students are Tuesdays and Saturdays. You can get a double vodka for £3.
There are lots of student friendly pubs in and around Norwich too, including the Fat Cat, the Murderers (I know), The Garden House and The Bell Hotel. All are situated in close proximity of one another.
So There It Is…
If you like what you've read and think Norwich might be for you but would like a little bit more info, you can shoot a friendly member of our team an email anytime.
And good luck with your application!
---