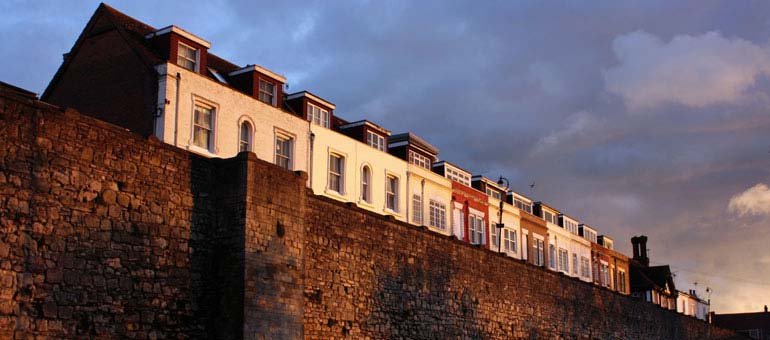 Southampton is probably most famous for being home to the port where the legendary Titanic set off on her doomed maiden voyage. But rather than being a harbinger of total calamity, Southampton is actually one of the UK's prettiest modern cities. It's the booming seaside metropolis of Spitfires, ground-breaking scientific research and cultural growth. If you're thinking about making it your home for the next few years as you study for a degree, let's take a look at what it's all about.
Universities In Southampton
There are two universities in Southampton:
The University of Southampton
The University of Southampton's origins go back as far as 1862 and it sits proudly in a very respectable 16th place in the latest League Table Rankings. Graduate prospects are sky-high, while student satisfaction is above average. Research quality is among the finest in the country, and degree completion stands at 92.4%.
The main campus is located north of the city centre but public transport links are excellent. To get in, applicants generally need to achieve at least three A-Level passes. With over 300 degree programmes to choose from, there is a balanced mixture of undergrad and postgrad students, while UK students make up just 71% of the student body. Both single and combined honours are offered, while teaching standards are extremely high: The University was awarded the highest possible level of achievement in teaching by QAA.
Southampton Solent University
Southampton Solent University is still only a babe-in-arms in university years; it gained uni status just ten years ago, after existing for 150 years as a School of Art. It currently sits in a rather lowly position of 100 in the updated 2017 UK League Table Rankings, and spending on facilities has been high in recent years, while the University also enjoys a good green score.
The main campus is situated right in the middle of the lively city centre, which means that you'll be studying on the doorstep of Southampton's nightlife. Undergraduates make up 96% of the students here, with just 14% studying part-time. An array of undergrad and postgrad courses are available, and teaching standards are high.
Fees, Living Aspects & Student Finance
The maximum amount that you will be expected to pay for your course is £9,000 per year, regardless of what you study or where you choose to study in the UK. The exact amount you pay will naturally depend on the degree you choose to take. If you cannot afford to pay your tuition fees yourself, you can apply for Student Finance.
Student Finance is a government-funded initiative that offers you a series of loans to help you pay your way through university. Once you have applied, you will be offered a tuition fee loan and a maintenance loan. The amount you are offered for the tuition fee loan will match your tuition fee, and the money goes directly to your university. These loans will be repayable only after you have graduated and are earning a certain amount of money. Student Finance pays your tuition fees for each year of study.
For more information about student finance try reading our Ultimate Guide to Student Loans.
When you go to university, it's highly likely that you will be managing your personal finances for the first time. This means that you're in charge of budgeting! Each week, you will need to carefully decide how much money you need for your daily essentials, including rent, bills, food, study equipment, travel, socialising, and so on. Some students are able to live purely on their maintenance loans, while others decide to take up part-time jobs to help them pay their way.
On average, students who study and live in Southampton spend £82 per week on rent, £25 per week on groceries, and £10 per week on utilities. Most first-year students prefer to live in university halls of residence, although private accommodation is also a (usually cheaper) option. Living in halls of residence gives you a chance to spend your first year with like-minded people, and it's often the case that the people you live with during your first year of university become your friends for life.
Below is a list of some of the most popular student halls of residence in Southampton:
Brunswick House Apartments – £158 per week
Richmond House – £150 per week
London Road Studios – £125 per week
Unilife – £165 per week
Austen House – £110 per week
Crescent Place – £125 per week
General Info About Southampton
Southampton is a heavily populated city, 1.5 million people live here, while the cruise capital of Europe also welcomes well over four million tourists per year. It's big enough to go out and explore, but it's still compact enough so that you don't spend half of your life wandering around and getting lost!
The University of Southampton is located north of the city centre, but there is a regular and reliable Uni-Link bus service that connects the main campus with the city centre. There are also regular public transport services that connect the hub of the city with the outer edges, while the main train station links directly with some of the UK's major cities. London is reachable by train in 1 hour and 15 minutes. Southampton also has a coach service that provides transport to the UK's major cities.
Southampton is great for shopping, and is in fact known as the Emporium of the South. Its West Quay shopping development cost £300 million to develop and is home to the usual big-name brands. There are also vintage shops dotted around the city, with an entire "antiques quarter" dedicated to all things traditional, handmade and specialist.
Events, Venues & Points Of Interest
Located on the southern coast, Southampton is one of the UK's most energetic and vibrant cities. It is home to a winding coastline that is dotted with beaches, ports, docklands and caves, while the city centre itself is a Mecca of shopping centres, gig venues, bars and restaurants.
The non-academic side of university is one of the reasons more and more students are increasingly drawn to Southampton. Ocean Village is one such catch. It's a stunning area of the city that offers quality seafood, excellent bars, a cinema, and a relaxing place to just sit down, watch the boats and forget all about that exam in the morning! Sprinkles Gelato is another win with students that offers you all the milkshake and ice-cream ever. No matter how busy their schedule is, students always make time – and room – for Sprinkles.
Hoglands Park is a great place to just chill out in the spring and summer. An ideal place to sit down with your friends and listen to some tunes, it's a huge park that will be right on your doorstep. Each summer it also hosts a massive Asian festival. Here you will find great music, great food and great exhibitions.
Or, if you're just looking for somewhere to chill after a big night out, Southampton Common is a fav with students who just want a bit of peace and quiet. You can have a stroll and feed the ducks until your hangover disappears!
Southampton isn't massively spoiled when it comes to cinemas, and there is only one Odeon which you will find situated near the docklands. There are plenty of music venues, though, including the O2, alternative venue The Joiners, and The Brook, a venue that regularly hosts touring bands and stand-up comedy shows. Theatres include the Grade II listed Mayflower Theatre, as well as the aforementioned O2.
There are plenty of "touristy" things to do, too; if you love your boats, the annual Boat Show is world famous and showcases some of the best boating models from around the world. SeaCity Museum offers escape from the humdrum of daily life, as does Southampton Art Gallery.
Nightlife
We want to see you have a good time in Southampton just as much as you do, so we've reserved the last section for the booming nightlife in this lively metropolis.
Unlike many university towns up and down the country, Southampton actually has a wealth of student clubs. Instead of run-down, boarded-up student unions that hint at past glories, you'll find a tableau of popular clubs which means there is always something for the night you and your mates have got in mind.
One of the very best is Jesters And Clowns, which for many students in Southampton is actually the best place on earth. Also known affectionately as The Palace of Dreams, Jesters is the club downstairs while Clowns is the bar upstairs. You're guaranteed a fab night and no doubt you'll bump into that classmate you always wanted to talk to but never got a chance to. Naturally, you'll both forget this convo ever happened come Monday morning.
Voodoo Lounge is another student friendly club that has had more name changes than Prince. Jaeger Bombs cost just a quid, while the music's chart oriented. There is also Sobar, which is located just a few doors down from Jesters and has an excellent beer garden, and The Cube, a club popular with post-grads who just love to tell you everything you can expect after uni has finished. "GETTING A JOB IS SO HARD, MATE." Yeah. Right. Just give me another £2 double.
If you love your pop music, Pop World on Tuesday nights is for you, while Orange Rooms is a strangely fish-inspired dive that costs a quid to get in on a Tuesday. At the end of the night, someone gets a chance to win £500 of the door money. Ace. That's just something that can't be taught in the classroom.
So There It Is …
If you think living and studying by the sea in a vibrant city like Southampton might well be for you, get searching for courses in Southampton below!
---