The Ultimate Guide To Studying In Cardiff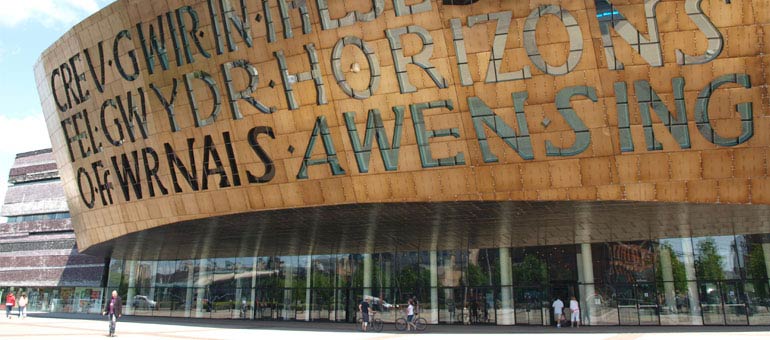 Cardiff is the land where everyone speaks two languages, the rent is dirt cheap and people still live in castles.
Okay, so no one actually still lives in castles, but the Welsh capital is home to one of Britain's remaining castles and the rent is super cheap, which makes Cardiff an excellent place to study.
 Moreover, Cardiff is rich in culture, alive with nightlife, and it has one of the greatest seaside's in the whole world.
So just in case you were twiddling your thumbs and considering Cardiff as the place to spend your University years, let's take a look at what the city offers with our Ultimate Guide To Studying In Cardiff.
Universities In Cardiff
Students make up an incredible 20% of Cardiff's entire population, which means that 1 in 5 Cardiffians are students, and it also means that students in the red dragon capital are worth a staggering £800 million for the local economy. Now, won't that make you feel important?!
 The city is proud to be home to 2 great Universities:
Cardiff University
Cardiff University has been around since 1883, and is situated in some of the most beautiful university grounds this side of Oxford. The facilities may be ancient but they're still refined and stunning, and are indeed one of the main reasons why many students choose to study here.
Cardiff University has a very high entry standards rate, and has  student satisfaction rating of 4.05. Degree completion is also very high, with a rate of 93.4%. The University is just a five minute walk from the city centre and it currently sits at 33 in the latest league table rankings.
Cardiff Metropolitan University
Cardiff Metropolitan University celebrated its 150 year anniversary earlier this year, which makes it Wales' oldest university. Popular with art and design students from all around the UK, Cardiff Met has entry standards of 314, a student satisfaction rating of 4.03 and a degree completion rate of 82.3%. The university currently ranks 91 in the university league table rankings.
It is home to two teaching campuses, one in Llandaff and one in Cynocoed, and both are located conveniently within the city centre. Entry requirements will depend on the programme you apply for, but they range between 140 and 320 UCAS tariff points.
Fee's, Living Aspects & Student Finance
Fee's are supposed to be what put students off from fleeing the nest and heading off to university, but despite the sky-high rise in tuition fees, universities just like those found in Cardiff are actually experiencing more applications than ever before.
In terms of living costs, the great thing about studying in Cardiff is that it's one of the cheapest places to live. During your second and third years, your rent will most likely be less than £300 a month, which will be enough to make your Oxford and London friends dead jealous. Indeed, the cost of living in Cardiff is lower than in most other capital cities.
However, most first-year students choose to live in halls for the first 9 months because it's easier than scouting for a house in a location you've never been to before. It is worth bearing in mind, though, that student halls are always more expensive than private accommodation. They do, however, come bang in the city centre, and most are armed with 24/7 security.
There are a number of student halls in Cardiff. Here are our top picks:
Shand House – from £133 per week
Student Castle  – from £114 per week
Summit House – from £163 per week
Liberty Point – from £115 per week
Liberty Park – from £112 per week
Victoria Hall – from £99 per week
General Info About Cardiff
Cardiff is actually one of Europe's youngest capital cities. Prosperous and attractive, it boasts an awesome cosmopolitan atmosphere. It might be much smaller than London, but this works in its favour as you get more of a chance to rub shoulders with people from different walks of life. Moreover, the city is also divided on each half by a waterfront and beautiful countryside, which means that you get the best of both worlds.
Cardiff is also the home of the National Assembly for Wales, which means that it has excellent cultural and commercial facilities. It has also recently benefited from huge regeneration projects, which have resulted in the gorgeous Cardiff Bay waterfront development, as well as the Wales Millennium Centre. You'll have no need to worry about getting out and about either, as the city is well-serviced by efficient public transport, and it is even home to an airport just incase you want to spontaneously take off somewhere!
Events, Venues & Points Of Interest
After a week of intense studying, you'll probably want something to do to help you unwind, right? Right! The great thing is that Cardiff caters to all kinds of people, from culture vultures to seaside lovers and everyone in-between.
Indeed, if you do happen to love to be beside the seaside, you simply won't be able to stop yourself from falling head over heels in love with Cardiff Bay. Part of a multimillion pound regeneration project, Cardiff Bay is essentially the development that put the Welsh capital on the map. Home to a huge wealth of awesome buildings and sights, among them the Wales Millennium Centre and the Norwegian Church Arts Centre, Cardiff Bay is indeed so cool that you might have to get your mate to pry you away from it to ensure you don't miss your exams!
As mentioned earlier, Cardiff is also home to a castle; more specifically, it is home to Castell Coch, a Gothic revival castle with a history that dates back as far as 1081. The building is certainly one for romantic history lovers, and its captivating stonework and tranquil grounds are a perfect place to relax and lose yourself after a heady weeks' studying. If you enjoy castles, you may also enjoy Llandaff Cathedral, Cardiff's premier cathedral.
Sports lovers will be able to get their kicks at the city's Millennium Stadium, which hosts regular sporting events (especially rugby) that emit a proper carnival vibe, whilst Cardiff also has a popular football team which were recently relegated from the Premier League. They're still a great team to watch though, and the atmosphere is always electric. Go Bluebirds!
Or, if you'd prefer to take in a show or two, you'll feel right at home at the aforementioned Wales Millennium Centre, which plays regular host to national touring shows. It's also a fantastic place to eat and drink if you're just looking to chill.
Culture vultures will certainly not be short of things to do, with the National Museum and Art Gallery, and the Chapter Arts Centre providing some spiritual home-from-homes. Meanwhile, literature and television fans are also well-serviced, as Cardiff is home to both The Doctor Who Experience and the the Roald Dahl Plass. And for any student who is a bit strapped for cash, the Welsh capital hosts regular car boot sales in the city centre so you can buy some vintage used wares to help make your life a little sweeter.
Yes, Yes, Yes. But What About The Pubs?!
You didn't expect an Ultimate Guide To Studying In Cardiff to come without a guide to the local drinking dens, did you?! No doubt after handing your work in for the week, you'll be ready for a good old party in Cardiff. Fortunately for students, Cardiff is a Mecca for cheap boozers and sticky dance floors.
Cardiff is home to seventeen branches of infamously cheap chain pub Wetherspoons, with The Central Bar being our top pick. It is certainly graced by fewer local miscreants than the others, and it also comes with a pretty cool upstairs booth. If, however, you fancy somewhere classier to drink your real ale and fizzy lager, the booming Brewdog gets our thumbs up. Hip, stylish and with more swagger than Liam Gallagher, only the coolest students in town drink here. Careful, though, it isn't particularly cheap. Best left for Student Loan Day!
Other cool student-friendly bars in Cardiff include the Pen & Wig, which hosts regular open mic nights, as well as pub quiz nights and curry nights. Then there is Gwdihw, a pub with a name so Welsh it hurts, whilst most students who have studied in Cardiff will attest to the fact that Porter's Cardiff is the place where you have more fun than anywhere else. They might not do curry, but they do do cinema, a miniature golf course, as well as bingo and "movieoke." Now then, doesn't that sound amazing?
Once midnight tolls, though, you'll naturally be thinking about heading to a club. Cardiff has got you covered, and among their student-friendly nightclubs are Bar Cuba, a Latin-themed club that regularly puts on student nights; Jumpin Jaks, a student club where a select few people tend to enjoy getting their kit off after one too many jaegers; Oceana, a club booming with student anthems from Oasis to Pulp, and Tiger Tiger, a chain club that hosts a handful of cracking student nights each week – including foam parties.
So There It Is …
In a nutshell, Cardiff is one of the friendliest, youngest cities on the planet. And thanks to its recent regeneration project, it's also one of the most buzzing capitals where 1 in 5 residents are students. So if you fancy finding out a bit more about studying in this student Mecca, start your search for courses available in Cardiff.
---