The Ultimate Guide to Studying in Leeds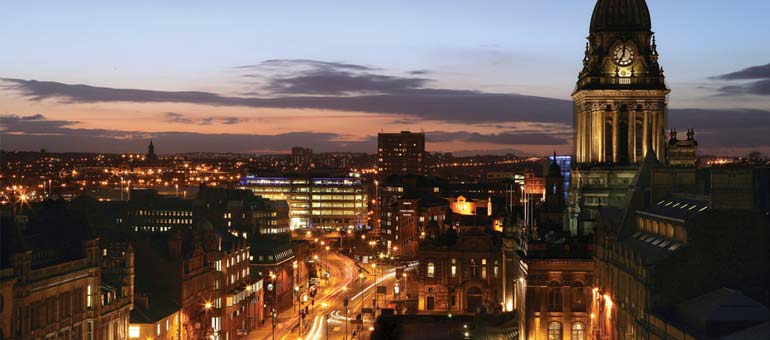 Student life is rife in Leeds. If you're thinking of studying here then you're unlikely to be disappointed but how do you know if it's the right choice for you? Our Coursefindr guide gives you the lowdown on where you can study, what types of accommodation you'll find here and the best of Leeds' social scene.
The Universities
There are three universities in Leeds:
University of LeedsLeeds Beckett UniversityLeeds Trinity University
University of Leeds
Residing close to the city centre, the University of Leeds has over 30,000 students from 146 countries. Being one of the top 100 universities in the world, the University of Leeds is well respected by employers around the globe with an active student union and award winning newspaper for students. Facilities here include a new library with over 1000 seats, a £12 million state of the art fitness centre and pool, and new developments for a range of subjects, including communications studies and business. The University currently ranks 16th in the Guardian 2017 league table rankings.
Leeds Beckett University
Leeds Beckett University has around 32,000 students with 25,000 on its Leeds campus. Offering a wide range of courses, its main campus is situated close to the city centre and there is a scholarship programme for high achievers in both academic subjects and sports. Boasting facilities like 24 hour libraries, low cost fitness classes and one of the best live music venues in the student union, it's equipped for both home and international students. Leeds Beckett ranks 114th in the university league table rankings.
Leeds Trinity University
Located about 6 miles away from Leeds City Centre in the town of Horsforth, Leeds Trinity is home to a small student population of 3000 students. The University was recently granted university status in 2012, and also opened their 3G all weather sports pitch in the same year. The University are proud to offer courses in many different subject areas including media, sport, business and education, with the option to undertake a professional work placement as part of the degree. The University sits at 88th in the 2017 Guardian league table rankings.
Fees, Living Aspects & Student Finance
Covering the cost of a degree is almost impossible without the help of student finance. You can apply to student finance to get financial help with the costs of studying, as well as your maintenance costs. For more information about student loans you can check out our Student Finance Guide here. To apply for student finance and see how much you are entitled to, check out the GOV website.
Leeds has a student population of 65,000, making it one of the largest student cities in the UK. The good news is that there's lots of great value accommodation for those studying here.
For those wanting to study at the University of Leeds, there is  catered and self-catered accommodation ranging from £141-£191 per week for catered halls and £81 – £162 for self-catered. Leeds Beckett University offers 4000 rooms with shared or en-suite bathrooms ranging from £87.50 to £170 per week for the academic year.
For those entering their second or third year of university or if you prefer accommodation away from university residences, there are a range of affordable student lets, such as spare rooms, houses and studios available to rent, ranging from £60 to £150 per week.
There are many letting agents offering appropriate accommodation for students with agencies like Sugar House Properties, Red Door Lets and City Red Properties proving good starting points.
General Info About Leeds
Leeds was named the UK's third largest city in 2011, with a population of 757,700. It is a city brimming with culture and commerce, and is considered the financial heart of the West Yorkshire Urban Area. It is also home to the fourth largest student community, from the three Universities.
Due to the size of the city, Leeds benefits from excellent transport links. Good transport links are essential for those looking to travel home, visit friends at other universities or travel to and from the city centre. All three universities are close to Leeds train station. It's under two hours to London via train and all institutions are accessible to the motorway.
For those who are travelling from afar, Leeds Bradford International Airport is nearby. If you need to get around the city, buses are pretty cheap with a student metro card and there are many cycle lanes for those who like to travel by bicycle.
Events, Venues & Points of Interest
Leeds is a vibrant and exciting city filled with a bright social scene for students. You can look forward to hundreds of live music events at places like the O2 Academy, Brudenell Social Club and Leeds Arena.
Every year, the city is host to several big festivals, including music at the Leeds Festival in August with tickets priced around £66.50 for one day with no camping and £215 for a weekend ticket with camping. Those on a lighter budget can enjoy the Live at Leeds Festival on the first bank holiday in May with tickets costing £22.50 for early bookers.
Students interested in film will love the Leeds International Film Festival held in November. The largest film festival in the UK, outside of London is packed with screenings of international, indie and low budget films with ticket prices for individual events starting at just £5 for NUS card holders.
Foodies can enjoy the Leeds Indie Food Festival which takes place in May and offers a wide range of events from beer to pizza with many tickets free or buy a festival passport for £15 guaranteeing food discounts and exclusive events.
If food is your thing then check out the many incredible restaurants and take aways the city has to offer with cuisine ranging from Yorkshire favourites to Asian delicacies. You'll find popular eateries from the likes of Nando's, Yo Sushi and Burger King to trendy establishments like Meat Liquor and Wagamamas.
If you prefer a more relaxed social life then explore the local coffee shops, cinemas and museum. Entry to the Leeds City Museum is free and has four floors of exhibitions and events.
Nights Out
Nightlife is booming in the city with a range of pubs, clubs and bars, including those on campus. Well known venues include Call Lane Social which is open till 4am and offers great music and a cool atmosphere, The Stone Roses Bar which is often open until 6am and HiFi which has a popular FUNKSOULNATION night on Friday's with free admission before 12am with an NUS card.
At Leeds University, you'll find the Old Bar, a traditional pub with drinks, food and live sport. Stylus night club hosts 2000 students every Friday night with tickets from £4 and you'll find loads of events from well-known music acts to themed nights.
At Leeds Beckett, the famous City Bar is a chilled food and drink venue by day and a club/music venue at night.
Job Prospects
Leeds is a city brimming with job opportunities for both graduates needing full time employment and students looking for part time work during the academic year. Many retail outlets and food establishments, such as Boots, McDonalds and House of Fraser offer part time jobs to those undertaking an undergraduate/postgraduate degree.
The University of Leeds has its own award winning careers centre with the aim of finding work opportunities for its students. Over 650 graduate recruiters visit campus each year to fill their vacancies, so it's no surprise that the university is in the top 10 within the UK for graduate recruitment. Leeds Beckett University also has access to key employers and industry insiders to help students into the world of employment.
See also: Best part time jobs for students
To summarise, Leeds is a great city to study in. There are a range of courses offered in this city covering a wide range of topics with both full time and part time attendance. As a city with many students, there are many things to see and do as well as low cost facilities. Accommodation is easy to find and caters for a range of budgets whether you want to be on campus or more in the city. The well regarded educational institutions are widely acknowledged by many businesses in the city making studying in Leeds an attractive and inviting prospect. If you want to know more about the courses provided in Leeds, search for your perfect course in Leeds with Coursefindr.
---