The Ultimate Guide To Studying In Leicester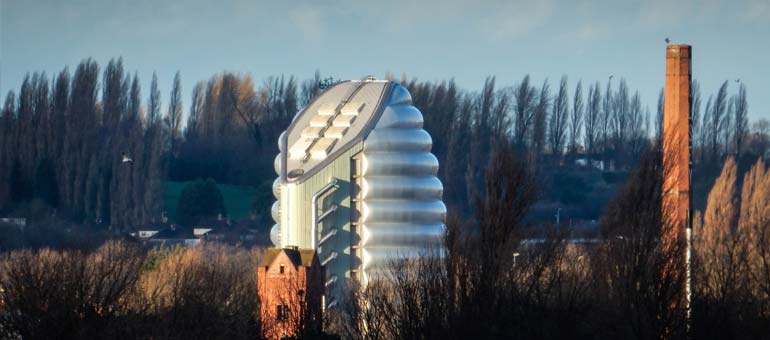 Fleeing the nest for University is not an easy decision to make, but before you decide which city can handle you, there are a few burning questions that need to be answered first. Are the houses cheap? Is the city interesting and happening? Are the universities of an adequate standard? What is the nightlife like, and is there a good amount of culture? So many questions.
If Leicester is on your list of options, let's take a tour of the city with our Ultimate Guide To Studying In Leicester.
And, yes, it is very Ultimate.
Universities In Leicester
Leicester is a good-sized city – not too big, and definitely not too small. Students appreciate its compactness and the amount of greenery there is in the city. Moreover, because it's placed so centrally in the UK, it attracts a healthy amount of students who are never too far away from home.
There are two universities in Leicester:
De Montfort University
De Montfort University has been scoring higher and higher in the league table performance charts each year, and is ranked #61 for 2017. It's proud to be a global uni, and is currently home to students from over 130 countries! It also scores very highly for employment rates, and has broken into the top 40 UK universities when it comes to student satisfaction.
University of Leicester
The University of Leicester is the city's youngest uni, and was founded in 1921. It's a very high performing university, and currently sits #47 in the league table performance rankings for 2017 – though this is down on its high scoring position of #20 in 2009.
Overall, it has excellent ratings and guarantees a top-notch campus, as well as very high teaching quality. Situated right in the heart of the city centre, it is a stone's throw away from the train station and sits side-by-side with the 02 Academy.
Fee's, Living Aspects & Student Finance
Okay, now for the slightly boring bit. Fee's, living aspects and student finance are kinda tedious, but they're an important part of your student experience. If you're going to make a success of this university thing, it's best that you get these three things sorted out before you head off to freshers without a care in the world.
When it comes to living aspects, many first-year students prefer to live in student accommodation. University halls of residents are often welcoming and very friendly, and this gives the student a chance to meet new, like-minded people who they can form lasting friendships with. Although living in a halls of residence can be fun, they can be more expensive than living in a private, shared house. It has to be said, though, that Leicester's halls of residence are some of the cheapest in the UK. Here is a rundown of our top picks:
City Block – from £97.00 per week
Newarke Point – from £140.00 per week
Filbert Village – from £99.00 per week
Walnut Street Residences – from £77.00 per week
Grosvenor House – from £97.00 per week
Oxford Court – from £75.00 per week
Primus Place – from £129.00 per week
Pennine House – from £73.00 per week
Liberty Park – from £110.00 per week
Whether you decide to live in a student halls of residence, or in a private shared house, we estimate that you will need to set aside around £7,500 per year to study and live in Leicester. Budgeting is something you will need to get used to, and it's a really good idea to budget before you start the first term. You can use a simple spreadsheet to do this, and it will help you to manage your money and how much you spend each month on your bills, food, and going out.
General Info About Leicester
Leicester is one of the UK's friendliest cities. It's also one of the smallest, one of the cheapest to live in, and it's also one of the greenest. Leicester is also a thriving cosmopolis, and is home to people from all kinds of ethnic backgrounds, as well as the largest outdoor fresh food market in Europe.
The bus service is inexpensive and comes with travel cards, while there are miles and miles of cycleways to be enjoyed if you'd rather bring your bicycle with you. Although Leicester itself isn't home to an airport, the nearest one is just under half an hour away (East Midlands), while the city is very well connected, with Birmingham within touching distance and London just 93 miles south. Road links are ace, and a frequent coach network helps to connect Leicester with nearby and faraway cities.
Sports fans certainly won't have any time to get bored in Leicester. There is an array of sports and leisure centres to be enjoyed, while the city is home to Premier League football team Leicester City, as well as the Leicester Tigers Rugby Club and the Leicestershire County Cricket Club. The city is also brimming with pubs, clubs and restaurants, while some of the biggest names in music are often invited to perform here. For shoppers, Highcross Leicester is the city's mains shopping centre, offering major department stores and restaurants.
Events, Venues & Points Of Interest
Leicester might be small, but there is still lots to do in this historical city. Unique, wonderful and cosmopolitan, there is always something happening. If you dig the theatre, you certainly won't be stuck for something to see in your free time because Leicester is home to numerous theatre halls that actually puts most cities to shame. Theatres here include the Curve Theatre, The Little Theatre, Upstairs at the Western, The Y Theatre and Jukebox. And in case you fancy a flick instead of a performance, there is always Vue cinema.
Other events and venues in Leicester include a bevy of art galleries and museums, while the O2 Academy is a music cathedral that regularly plays host to top bands and artists. Upcoming lineups include metal-heads Bullet For My Valentine, indie superstars Courteneers and indie legends Starsailor (legends?). If, however, you prefer your music to be a little more underground and away from the limelight, the city offers you cosier venues, including The Shed and The Donkey.
When you decide that it's time to get out and about and have a stroll around to clear your head, you'll find that this super-green city has lots of pleasurable points of interest. These include the idyllic Bradgate Park, the National Space Centre, Leicester Cathedral, Abbey Park, and Ashby de la Zouch castle, a grade I listed building that is managed by the English Heritage, and which dates back to the 12th century.
And if it's history that you're really looking for, let's not forget that Richard III's 500 year-old skeleton was recently discovered underneath a car park here. You can find all about him in the King Richard III visitor centre, or you can discover the truth about the man and his death via King Richard III.
All hail the King!
Nightlife
Okay, it's time to get out of the castles and into the pub.
The fact that the city centre of Leicester is not too big is actually a bonus. Rather than getting lost trying to find your friends, or arguing over where to go tonight until it's 2am, the compactness brings people together. The clubs aren't ridiculously expensive, and although they do get busy they don't get too sweaty or so-packed-that-you-can't-breathe. This isn't Manchester, after all. The flip side to being a small city, though, is that you might find there isn't enough choice of places.
The Students Union itself is a popular hotspot with students and offers an array of well-attended club nights, including Shabang. Shabang is like your average club night, except that it offers a very relaxed atmosphere. It's so relaxed, in fact, that there is zero pressure on getting dolled up to the nines. Folk just expect you to turn up and have a good time! Which is how it should be.
Other clubs include the ever-popular Club Republic, a multi-room nightclub that can boast a state of the art sound system, as well as a VIP bar; Mosh, a 3-floored indie-rock club that is for all the headbangers among you, and The Basement, a niche nightclub that is ablaze with sensual funk and soul music most nights of the week.
In terms of pubs, it doesn't really matter whether you're into these contemporary continental bars, or whether you just love a good old man's pub that shows the footy because Leicester has something for everyone. Our faves include Bar Gaudi, Cafe Bruxelles, Fat Cat Cafe Bar, and Dry Dock, a charming pub that was actually built into the side of a boat.
So There You Have It
If you're convinced or half-convinced that Leicester might well be the best place for you to study, why not search for your perfect course in Leicester with Coursefindr now.
---