The Ultimate Guide To Studying In Liverpool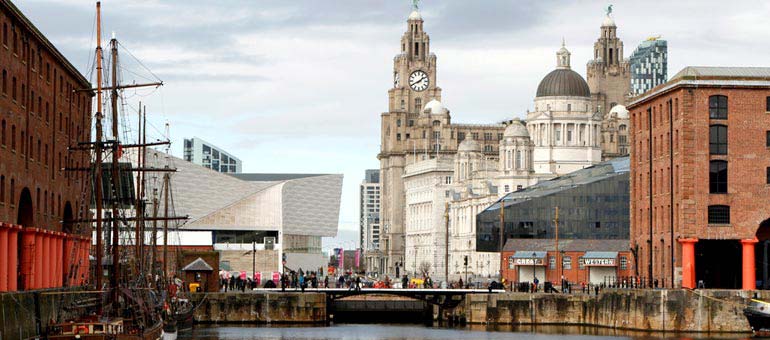 According to some, Liverpool is most famous for giving the world The Beatles, Steven Gerrard and a loveable accent. However,  Liverpool is also a hotbed of academia and culture, and was christened the European Capital of Culture in 2008.
Rich in diversity, energy and history, Liverpool is one of the UK's most loved, and most vibrant cities. It's also a thriving student city too, and is able to offer students a healthy mixture of the fun stuff with the serious stuff. From eclectic live music to the best in modern art, it's a city that knows how to cover the bases.
And in case you're considering fleeing the nest to become a Liver Bird, we thought we'd put together The Ultimate Guide To Studying In Liverpool. Just for you!
Universities In Liverpool
Liverpool's student population is approximately 50,000, so you'll have no problem finding someone to buy you a Jaeger bomb when you're skint. There are three main Universities in the city:
University of LiverpoolLiverpool Hope UniversityLiverpool John Moore's University
The University of Liverpool
The University of Liverpool is consistently one of the highest ranked universities in the UK, and was first opened to students way back in 1881. It is able to boast a degree completion rate of 91.4% and has in its time produced 9 Nobel Prize winners. Could you be next?
Situated in the heart of the city, the University of Liverpool offers excellent access to everything you could ever need. It currently sits at 59th in the latest Guardian university league table rankings.
Liverpool John Hope University
Liverpool John Hope University is over 170 years old, but there's life in the old dog yet. If you've got a strong interest in the arts, the humanities or science, Liverpool John Hope could be your best bet. It is the only ecumenical university in Europe, and it comes with its very own Creative Campus. This Creative Campus is home to the Creative and Performing Arts, as well as the Creative Campus Library.
Like the University of Liverpool, it is also situated in the centre of the city. The University ranks 79th in the 2017 Guardian league table rankings.
Liverpool John Moore's University
Formerly known as the Liverpool Polytechnic, Liverpool John Moores University is known for being the go-to university in Liverpool for students who want work-related learning. Their World of Work programme is endorsed among others by Siemens, Ford Europe, Sony and Marks & Spencers. It has a degree completion rate of 84%, a graduate prospects rating of 61%, and two thirds of the campuses are situated in the city centre. LJMU currently ranks 84th in the league table rankings.
Fee's, Living Aspects & Student Finance
Fees are what students dread most before they head off to university, and thanks to the 1000% increase of tuition fees (or something equally silly), you'd expect more and more students would be turned off the idea of higher education altogether.
Yet this is not the case, with the University of Liverpool seeing an increase of 18% more applicants. This is largely down to the fact that, while tuition fees are very high, they are mostly often covered by a magical little thing called Student Finance.
In terms of living costs, most first year students prefer to live in student halls during their debut year. It helps them to meet like-minded new people, and it means they don't have to worry about finding a room in a house share with several strange Liverpudlians. The only real issue with living in halls during your first year is that they do cost more than renting a room in a house share. The bonus? They're plonked right in the centre of the city and most of them come with 24/7 security.
There are a number of student halls in Liverpool. Here are our top picks:
Arena House – from £95 per week
St. Andrews Place – from £117 per week
Hope Street Apartments – from £109 per week
The Paramount – £137 per week
Grand Central – £116 per week
General Info About Liverpool
Liverpool is classed as a World Heritage city, and is well known for its Mersey waterfront and associations with maritime history. It is also home to a historic university, as well as a bustling tourist industry that is helped in no small part by The Beatles and the historic Liverpool FC. The views of the Mersey are stunning, whilst the vibrancy within the city centre is equal to any of the UK's major cities.
In terms of getting out and about, Liverpool is well-served when it comes to public transport. You can hop on a bus, train or taxi, or you can even jump on the ferry! The city was even ranked by Rough Guides 2014 as the third best city in the world to visit. It's quite a remarkable achievement when you consider that Rio De Janeiro came first! Go Liverpool!
Events, Venues & Points of Interest
After a hard week of studying, you won't be short of things to do in Liverpool. With more attractions than a fun fair, Liverpool offers a wealth of things to do. For culture vultures, there is a vast array of art and history on offer. From Tate Liverpool to the Walker Art Gallery, there is no shortage of paintings, sculptures and installations to get you musing and your friends wondering, "Just what is the meaning of THAT?"
Music lovers certainly won't be bored in Liverpool, and indeed the city is known as the Pop Capital of the World, as there have been more number 1's from Liverpool artists than anyone else in the whole world. If you love all things sixties, The Cavern Club will be for you. Located right in the heart of the city, this is a place for the cool cats who love to get down to live music. The Cavern Club hints of nostalgia as it plays host to live tribute acts each week, including The Beatles. But they do play tribute to other bands, we promise!
Or, if you fancy something more contemporary, the O2 Academy Arena is a mega venue that puts on the best modern music, with current bands lined up including The Kooks. Theatre lovers won't be left kicking their heels in Liverpool either, with the Playhouse Theatre regularly staging some awesome plays.
But for students who are feeling the pinch a little more than others, it's also worth noting that Liverpool caters for those eating on a budget, with places to eat including the American diner- inspired Moose Coffee that offers king-sized breakfast and a cosmopolitan eatery that offers the finest in chorizo sausage rolls for less than a few shots at the local club. Get in.
But perhaps the most exciting thing about Liverpool is that it's set by the seaside. Although there is no beach, you can still enjoy tranquil sea views from Albert Dock, a veritable hotchpotch of all the best that the city has to offer. Here you will find the Tate, the Merseyside Museum, the International Slavery Museum, as well as the world famous Beatles Story.
And speaking of beaches, the lovely Crosby beach is literally just a bus ride away. Yay!
Yes, Great. But What About The Pubs?!
Naturally, no Ultimate Guide To Studying In Liverpool would be complete without a rundown on all the local pubs and clubs. If we omitted the boozers, it just wouldn't be ultimate. It would simply by A Guide To Studying In Liverpool. And how drab does that sound?!
Liverpool is actually home to more pubs than students, so you'll never be short of finding a few beers, cocktails and wines. But just in-case you actually have standards and want to separate the wheat from the chaff, we thought we'd recommend you some of our Liverpool favs.
These include Leaf Tea Shop, which is basically hipster student heaven. By day it's a tea shop, but by night it's a social hangout with gigs, events and beer. Then there is Mello Mello on Slater Street, an independent bar that plays host to gigs, theatre and even alternative comedy. This is not to mention the awesome, American-inspired Motel on Fleet Street that blasts out rock n roll jams along with nacho snacks and Detroit 51 Ale. But for students who just love to sit and chat over a fine ale, we'd have to recommend The Ship and Mitre on Dale Street.
If you're the kind of student who loves to play out until the early hours, you won't be short of options when it comes to fun-loving clubs. Among Liverpool's most student-friendly clubs are The Krazy House, an infamous multi-floored student haunt that satisfies everyone from ravers to heavy rockers. Other clubs include Garlands, a gay club that does extravagance better than Las Vegas, and Nation, the kind of student club that does everything students love most: Lasers, strobes, cheap shots and foam.
So There It Is …
Liverpool is one of the hippest, most happening cities in the world.  Now start the search for your perfect course with Coursefindr.
---