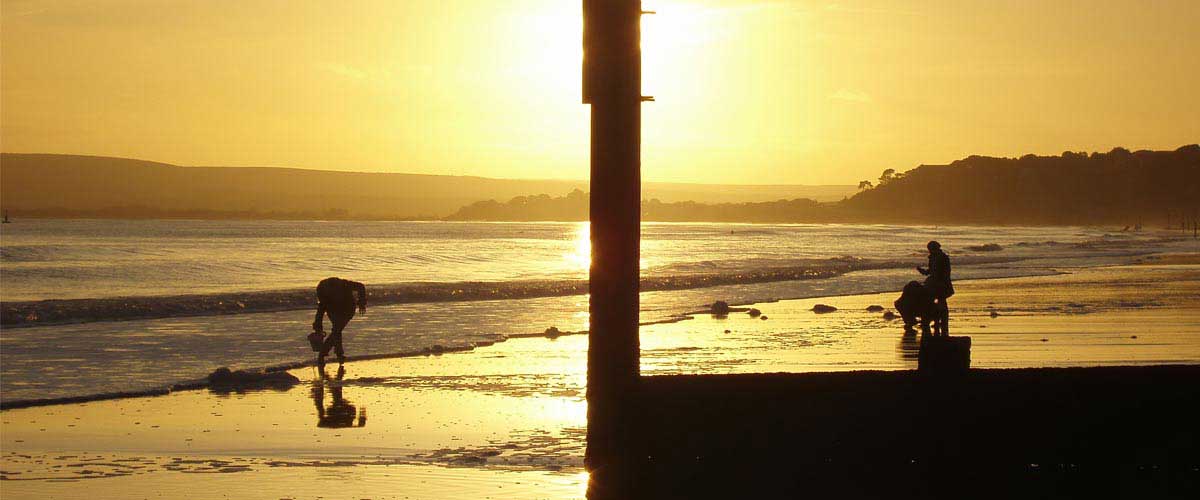 Located on the south coast, Bournemouth is easily one of the most pleasant places to spend three years of your life studying. With sunny beaches, friendly locals and the happening nightlife, Bournemouth has pretty much got it all if you don't fancy studying in a busy city. Let's take a closer look at the town that gave birth to John Lennon's aunt! (Fancy that!)
Universities In Bournemouth
There are two universities in Bournemouth:
Bournemouth University
Despite its name, Bournemouth University is actually located in the borough of Poole. It currently sits 79th in the latest league table rankings. Graduate prospects are good, while teaching standards are high; the University was the first in the country to be awarded a so-called "commended" judgement from QAA for its high-level of student learning opportunities. The University is also able to boast that it has more students than any other on work placements.
Research standards are also good, and the Uni has managed to find its way into the top 10 percent of "new" universities for research environment. Employability is good, too, with over 90% of their students finding work just six months after graduation. Undergraduate courses are designed in collaboration with employers, with most of them accredited by some of the major players in various industries.
Media courses are Bournemouth University's forte.
Arts University Bournemouth
Arts University Bournemouth gained full university status at the end of 2012. 125-years old, it is focused on offering students a solid teaching experience in art, design and media, and although technically located in Poole, it is also not too far from the centre of Bournemouth.
Entry standards are relatively high, though most students are accepted on the strength of their portfolio and interviews – as opposed to prior grades and educational background. Degree completion currently stands at 93%, while student satisfaction is good. Many artistic students are attracted to the University thanks to its close proximity to London, as well as the youthful environment of the surrounding towns.
Fee's, Living Aspects & Student Finance
If you are looking for information on student loans then you should definitely check out our guide to student loans.
Anyone moving away from home for the first time to go and study at university will most likely have to take care of their own finances for the first time. Setting out a sensible budget will help you to spend within your means, and it will ensure that you're never left short of money at the end of a month – let alone the end of the year! Many students go into university underestimating how far their money will go, and it can be really easy to overspend. For this reason, it's super important that you work out how much you will need from month to month.
The average student in Bournemouth spends around:
Accommodation – £373 per month
Bills – £37 per month
Food and drink – £110 per month
Transport – £48 per month
Socialising – £67 per month
There are other important things to take into consideration too, such as laundry and a TV license if you live in a shared house with a television.
When choosing where to live during your first year, you're pretty much faced with two choices:
University/Private halls of residence
Private house share
Most first year students choose to live in a halls of residence because it's part of the exciting experience of going to university. You get to meet new, like-minded people straight away, and 24/7 security is mostly always provided. The only real downside to living in halls of residence is that they are usually always more expensive than private house shares. At Bournemouth University first year students opt for the lively and popular halls of residences like Purbeck House and Lyme Regis House. These en-suite flats cost around £128.50 per week BUT this does include all bills and your bus pass; result!
For those students looking for accommodation at Arts University Bournemouth, the most popular halls of residence is Madeira Road with 374 en-suite rooms on offer at £140 per week. New for 2017, Hurn House is located in the popular Lansdowne area of Bournemouth. At the same price of £140 per week for an en-suite room a further 153 rooms will be available.
Some first year students choose to live in private halls of residence and below is a list of some of the best in Poole and Bournemouth:
Mercury House – £190.00 per week
Lulworth House – £127.00 per week
Bracken House – £120.00 per week
General Info About Bournemouth
Bournemouth is situated on the south-west coast of England, around a hundred miles away from London. A busy harbour town, it's home to a Premier League football club, stretches of golden beaches and lots of natural landscape. It has a total population of 183,000, 20,000 of which are students, and has excellent infrastructure, including fantastic road and rail links, with the railway station servicing more of the UK's major cities.
Bournemouth University is split into two campuses, with the main campus (Talbot) located between Bournemouth and Poole, and the other campus (Lansdowne) located near to the heart of Bournemouth. The town is among the safest in the country and has lower crime rates than lots of our major cities that include Liverpool, Manchester and nearby Southampton, while its flagship beach has been praised as one of the cleanest in the country.
Events, Venues & Points Of Interest
Bournemouth is one of the UK's sunniest tourist destinations. As such, there is plenty to do and see here during downtime for students.
The beach itself is where lots of students prefer to spend their time, especially when the weather is good! Always lively, it's recognised as one of the cleanest in the UK and provides visitors with top-class facilities. It also stretches out for seven miles, so there'll be plenty of room for and your squad to play frisbee and have a splash in the sea!
Another great place to chill out in Bournemouth is the public gardens and parks. There are many of them, and collectively they cover 2,000 acres. The best ones are to be found in the Lower Gardens, the Central Gardens and the Upper Gardens. Many of these parks and gardens are Listed Grade II and have managed to hold onto their fascinating Victorian heritage. Some of them are located adjacent to the seafront, others are more central, while others are on the quieter outer edges of the town.
Bournemouth is a great place to shop too, so if you still have some of your student loan left after fresher's week, you might want to head into the heart of the heavily-pedestrianised town for some retail therapy (especially after exams). Brand name stores and high street names sit next to indie stores, while numerous coffee shops, bars and restaurants offer a unique culinary experience.
Bournemouth also has lots to offer you if you fancy walking around galleries and museums. The main attractions include a huge Oceanarium and Russell-Cotes Art Gallery and Museum, while there are three theatres in the area. For music lovers, the O2 Arena plays host to some of the biggest names in pop, though Canvas represents a cheaper alternative for students who fancy something a bit more underground. There is also an Odeon cinema located by the seafront.
Nightlife
One of the major things many students take into consideration when choosing their university is the nightlife. If a town is as quiet as church during a sermon, it's probably not worth your time. Thankfully, the seaside town of Bournemouth is as lively and as bouncing as they come.
Although a lot of clubs have shut down in recent years, there are still two popular student clubs that continue to thrive. The Old Fire Station is – you guessed it – a converted fire station that always has something going on and caters to all kinds of music lovers. The venue regularly hosts live music sessions, while their regular club night includes Lollipop, which is the town's longest running student party. It's on every Friday and is only open to students.
The Student's Union is an alternative option, while there is also a small cluster of other clubs as well as chain bars/clubs, including the always happening Walkabout which hosts club nights every weekend, and which will show all the sport you can handle.
Cameo is another nightclub that is popular with students and people known as locals, while Vinyl is your best bet if you and your mates want to get your groove onto some old classics, including S-Club 7 and Busted.
There is a hive of bars and pubs in and around the town centre, with some of the popular ones including Yates' Wine Lodge, Inferno's and the Irish pub O'Neill's. Poole is only a short bus away, and here you will find a handful of cheerful and friendly bars and pubs.
So There It Is…
If you're a beach lover, Bournemouth makes a lot of sense. The University of Bournemouth is one of the best uni's in the country, while there is so much fun to be had in the town itself. If you'd like to find out a bit more, why not get in touch with us today to see what we can do for you?
---