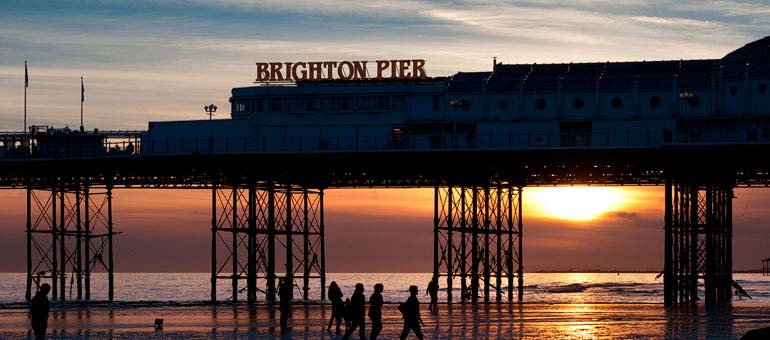 Packing your bags to go and study away from your home-town can be a bit of an uneasy prospect. Many students worry about feeling homesick and missing their friends, families, partners, and even pets.
Most students who up-sticks to study in Brighton, though, tend to forget all this as soon as they hit the beach. Even the postcard to mum gets forgotten about!
If you're thinking of studying in Brighton, you'll know that you have a lot of research to do first. You need to find out how much your accommodation will cost you, the best and worst places to live, what the general culture is like, as well as how cheap the drink prices are. It's all important stuff, but thankfully we've got you covered on everything. Let's have a gander at what studying in Brighton is all about.
Universities In Brighton
Brighton is home to two universities:
University of Brighton
The University of Brighton is currently placed 91st in the Guardian University League Table Rankings 2017. It scores really well on the greenometer for taking care of its surrounding environment, while entry standards and graduate prospects are in the average-to-above-average range. The research facilities here are recognised as some of the best in the world, with the Research Excellence Framework 2014 ranking it among the top 25% of UK universities.
Although its graduate prospects fare just slightly above average, it's important to note that The University of Brighton also has close ties with businesses and employers which enhances your chances of securing employment after you graduate.
The University is fantastically situated not too far from the city of London.
University of Sussex
The University of Sussex sits proudly at 20th in the current Guardian League Table rankings. It's particularly renowned for having excellent graduate prospects, while it's overall spend on modern facilities is high.
Founded as recently as the early 1960's, the University of Sussex is popular with mature students, and has a 75/25% mix of undergraduate and postgraduate students. Teaching standards are high, with 88% of 2014 students saying they were either satisfied or very satisfied with the teaching they received.
The University is situated in the gorgeous Sussex Downs, with the centre of Brighton reachable in just a matter of minutes.
Fees, Living Aspects & Student Finance
Unfortunately, talking about finance is something that has to be done when you're studying at university, be it in Brighton or anywhere else. Going to university is often the first time a young person has to think about budgeting, and as such it equips you with one of life's most valuable and practical life-skills – that of managing your finances.
Whatever you are studying, you can expect to pay £9,000 per year for a full-time course. If you can't pay your student fees yourself, Student Finance becomes your new best friend. Student Finance is is a government-funded initiative that loans money to students to help pay for their course and to contribute towards their costs of living.
All students are entitled to a tuition fee loan and a maintenance loan for each year of their course. Tuition fee loans cover the entire amount of your course and are paid directly to your university. You only start repaying this loan after you have graduated, and once you are earning a certain amount of money per year. Read more in our Ultimate Guide to Student Loans
While Student Finance takes care of your loans, you will still need to get to grips with managing your budget. For some students, the maintenance loans are enough to cover their costs of living, while others need to take on part-time work. Your "cost of living" will include your rent, bills, study materials, food, transport and, of course, your social life. As of 2015, the average student living in Brighton spends around £28 per week on groceries, £18 on utilities, and £95 on rent.
When it comes to accommodation, you can either live in one of your university's halls of residence during the first year, or you can take the plunge and rent a room in a shared house with other students. A large number of first year students choose to live in halls of residence because it is convenient and it gives them the chance to get acquainted with lots of like-minded students. There are plenty of positives to living in a halls of residence:
24/7 security
All your utilities are included in your rent
Chance to make new friends before your course has even started
General Info About Brighton
Brighton is one of the most colourful, creative cities in England, which makes it an ideal place for students. The seaside resort town has an overall population of 155,000, around 25,000 of whom are students. Compact and easy to navigate, Brighton is ideally located at the southern tip of the UK; London is reachable by train in just 50 minutes, which means that if you study here you'll pretty much have the best of two amazing worlds: The beach and our booming capital city.
Bus services are regular, while there is a flat rate fare in the city centre. Cycle lanes are also plentiful, although car parking in and around the central area can be a little bit on the expensive side. As mentioned, trains to London take just 50 minutes which means that you can easily travel from the capital to your home-town whenever you want. But for when you do want to hang around as much as possible, the city of Brighton boasts 19 cinemas, 10 museums, an absolutely awesome pleasure pier, and, of course, that gorgeous beach.
Events, Venues & Points Of Interest
Brighton is a massively popular tourist destination, attracting over 8 million tourists per year. Moreover, it is also the UK's most popular seaside destination bar none – and for good reason. A cool, vibrant clean city, there are plenty of things to see and do in Brighton when you're not stuck in the classroom.
If you're looking to just get out and about for a few days, exploring Brighton is really fun; it's a seaside city that offers a vast amount of things to do during the day, and is a giddy mix of culture, scenery, ambience and nightlife. You can take a walk back in time at the Royal Pavilion, check out some vibrant café and shopping culture at The Lanes, go for a stroll along Brighton beach in the afternoon, stop by the Brighton museum and art gallery, before watching the sunset from Brighton pier.
Brighton also does the arts very well too, with the Brighton Theatre Royal – a beautiful Grade II listed building – offering an exciting year-round programme of top shows, from West End musicals to comedies. There are three main cinemas in the city, which include an Odeon and a Cineworld on the seafront, as well as the independent Duke of York's Picturehouse for more discerning movie buffs.
It's also worth mentioning that Brighton is the only city in England that has a Green MP. Unsurprisingly, its beach isn't its only offer of retreat from the hustle and bustle of city life; Brighton is also surrounded by the Sussex Downs, a range of gorgeous chalky white rolling hills that are popular with walkers and cyclists. A long distance footpath takes you all the way from Winchester to Eastbourne, and represents an idyllic way to spend any day when you're looking to just wind down and chill out. Other points of interest in the nearby countryside include Devil's Dyke, a beauty spot with footpaths and trails, and Ditchling Beacon, the highest point in Sussex that offers captivating views.
Nightlife
Brighton is the clubbing capital of the south coast, and, if you believe some people, it's also the clubbing capital of the entire country. Fat Boy Slim is a resident, which tells you all you need to know. Okay, he's old now and no longer drinks, but wherever he lives there's always a party. So, if you can't wait to unpack your suitcases before popping your glad rags on, you'll be pleased to know that Brighton is not short of a party venue or two.
Now, the thing with being a student is that you're probably going to be skint quite often. Maybe you'll want to make the most of midweek nights while trying to scrape some pennies together for a quieter night (yeah, right) at the weekend. In Brighton, stretching your student loan so that you're not the one who has to tell your halls buddies that you're staying in tonight with a cup of tea and Keith Lemon is totally possible.
Mondays are all about Fat PoppaDaddys, otherwise known affectionately as Fat Pops. Fat Pops is aimed squarely at hard-up students who want a good time, with doubles costing just a mere £2.10. You can also get 5 Jaeger Bombs for a fiver before 12.30, while quality, banging music is always guaranteed. Rivalling Fat Pops on a Monday is Trash, a Vice magazine-endorsed club night at Coalition that is open from 11 until 5 in the morning.
The clubbing action doesn't stop as the week wears on; on Wednesdays you have a choice between Epik! and Coco Loco, a tropical midweek student shindig; on Thursdays you're probably going to be caught between slipping off to Brighton's worst kept secret The Secret Discotheque or getting on down to Paradiso at LoLa Lo, while if you're still awake by Friday, Friday I'm In Love is the absolute perfect way to start your weekend, with entry prices starting from just £5.
If you're more of a pub person, Brighton has got your back in terms of quantity. The only real downside is that the price of a pint does appear to be rising by the hour, but as a bonus you get to sip your pint with a sea view. Our favourite pubs include The North Laine, The Gladstone on Lewes Road, The Globe and Hobgoblin. Careful, though, because one drink could easily turn into "OMG I Woke Up Face Down On Brighton Beach This Morning."
So There It Is…
In a nutshell, Brighton is a must-see city for anyone. Whether you choose to study there is all down to you. If you're seriously thinking about it and would like to find out a little bit more, why not start searching for courses in Brighton now?
---