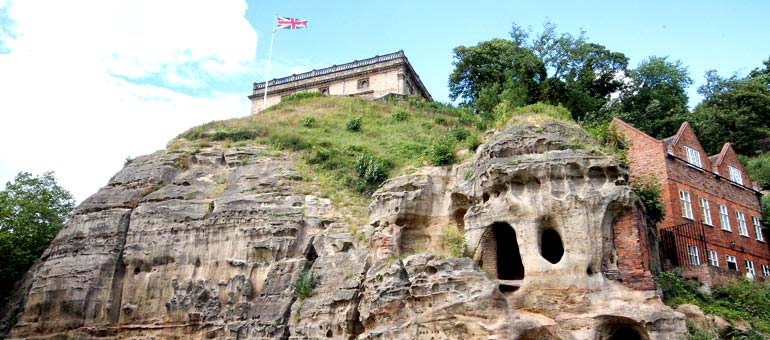 Nottingham is famous for it's links to Robin Hood, lace-making, and tobacco industries. But what about studying? Well, Nottingham is actually a very popular choice for students, with around 70,000 students being in the city each year. And what makes Nottingham a great choice for students? We are about to tell you!
Throughout this article we are going to give you the inside scoop on what you can expect from living and studying in Nottingham, with little tips about places to visit, nightlife to try and events to attend. First things first though… where can you study?
Universities in Nottingham
There are two universities in Nottingham:
University of Nottingham
The University of Nottingham dates back to the 1880's and it's main campus is located just outside of the Nottingham City Centre. The University also works closely with Malaysia and China to offer students an exchange program for up to 12 months. Students can study courses in arts, engineering, medicine, social sciences and science at the university. The University currently sits at 25th in the latest Guardian league table rankings.
Nottingham Trent University
Nottingham Trent University was founded in the 1840's, making it the older university out of the two in Nottingham. It is also one of the biggest universities in the country with relevance to its volume of students; over 28,000. The courses offered at Nottingham Trent are arranged into three colleges and also organised into a further 9 schools. NTU currently sits at 53rd in the latest league table rankings.
Fee's, Living Aspects & Student Finance
Funding your university life can be expensive, we know, but luckily you don't need to fund it all from your back pocket. You can apply for student finance and they will fund your education and your living costs, which you can pay back after you finish university. I bet that's a relief isn't it? For more information about student finance you should definitely read our Ultimate Guide to Student Loans.
When you start university you are bound to want to live on campus or in halls of residences throughout the city centre, and you'll be glad to know that each university has a variety of different halls.
If you are planning on studying at the University of Nottingham you can opt to live in one of their 20 halls in the Nottingham area. If you are based at the University Park you can choose from a range of Catered Halls, and if you are based on the Jubilee Campus you can live in their catered halls; Newark Hall and Southwell Hall. There is also a wide range of other halls which are self catering and come with other room types such as en suite and double room facilities. Prices per year for halls of accommodation at the University of Nottingham start at £4,136 and can be as expensive as £7,430 per year.
We thought you might also want to know that Nightingale Hall, a halls of residences at the University of Nottingham, was voted the 3rd best halls of residence by students this year! Find out more with our article: Top 10 Student Halls.
Alternatively, if you are applying to Nottingham Trent University you can check out their 18 halls of residence which are located at the City Site, in the City Centre, on the Clifton Campus and also on the Brackenhurst Campus. Most halls of residences at Nottingham Trent University have ensuite facilities, with only 8 halls having shared bathroom facilities. Prices per week start at £83 for standard rooms, and can be as expensive as £160 per week for the most premium room types.
For the latter years of your university experience you may want to live in a student house or privately managed property. Renting a house can be relatively cheap to living in halls of residences, with weekly rents starting at around £60 per week. If you are looking at student properties you can check out your university's approved accommodation providers. Some other estate agents in Nottingham who specialize in student lettings include Nicholas Humphreys, Oak Student Letts, and Unipol Student Homes.
General Info About Nottingham
Nottingham is based, pretty much, in the middle of the country, ish. This makes Nottingham a good place to study for those students wishing to either travel far away from home, or to commute to university from a surrounding area.
Most trains on the East Midlands Trains service will take you right to Nottingham's door step. If you are coming from London, you can hop on a train from London St Pancras and arrive at your destination in less than 2 hours. Alternatively, if you are coming from the North you can pick up direct trains to Nottingham from Sheffield, Leeds, Barnsley and Chesterfield.
If you would prefer to drive to Nottingham, you will be glad to know that it is located just off of the M1, and also close to the A1 which links you to both the south and the north of the country. If you are coming from the east or the west, you just need to get yourself to the M1 or the A1 then voila, you will be there in no time!
When you are in the city centre you can get around really easily using any of their buses and also their tram network, with 5 stops going from one end of the city to the other, stopping at the main tourist and leisure hotspots.
If you are planning on studying at the University of Nottingham you can use the Hopper Bus to get from campus to campus, free of charge. There are also regular university buses that travel to and from the city centre, however, these are not free of charge. If you want to study at Nottingham Trent University, you can also benefit by being able to use the university run service to travel between campuses, and these cost £1.70 per journey. These also run through the city centre for ease of access.
Nottingham is a great place for retail therapy with high streets full of branded shops, a shopping centre, independant boutiques and market shopping available. The east midlands designer outlet; McArthurGlen is also a short drive away if you are looking to bag a bargain on slightly more prestigious brands.
Apparently, Nottingham has over 300 places to eat and drink, meaning that you would never get bored of eating and drinking out. Although, your bank balance probably wouldn't support that kind of behaviour. Nottingham is home to many different cuisines and types of restaurants including your bog standard high street chains to your Michelin starred fancy restaurants.
Events, Venues & Points of Interest
Nottingham is one university city that you definitely won't get bored of on the weekends. They have a tonne of activities to do and loads of things to see.
The first thing you need to do is explore the famous Robin Hood attractions. The main place for this is the Sherwood Forest. You can venture around the forest on your own with a map, or you can go on a Robin Hood Town Tour. You can also find a Go Ape! treetop challenge in the Sherwood Forest if you are feeling active. Throughout the year there is also Robin Hood themed events including the Robin Hood Festival, and even a beer and cider festival in October.
There are lots of fancy buildings and castles to visit in Nottingham including Wollaton Hall, Nottingham Castle and Newark Castle. Each attraction boasts the history and heritage of Nottingham and it's certainly worth visiting for those students interested in history (and pretty buildings).
Nottingham hosts a range of events each year, and is also the host of many festivals. Splendour and No Tomorrow Festival are held in Wollaton Park. No Tomorrow Festival is held in June and this year had the likes of Jessie Ware and John Newman on stage. Splendour Festival was held in July this year and headlined smaller acts such as Lawson.
What About The Nightlife?
Ok, so you want to know what you can expect from a night out in Nottingham. The short answer is that Nottingham has a student night, every night. Is that good enough for you?
On a Monday you can head to Vice at Cocotang for a "classy" night out. By this we mean that people like to dress properly. No trainers or shorts please. Serving cocktails all night and playing house music, Cocotang get your week off to a great start. If you would rather dress in trainers and shorts you could try Oceana on a Monday with their event TFIM. Oceana is a massive chain nightclub and has multiple rooms for people with different music tastes.
Tuesdays are pretty much reserved for RnB and Hip Hop, with two nightclubs hosting events with this genre of music. F*ck Hip Hop is held at Market Bar and Gin and Juice is hosted at Rescue Rooms. Tickets are required for Gin and Juice and normally the event is sold out weeks in advance, so make sure that you get organised for this event!
Wednesday nights are most popular for the event Crisis at Rock City. You will find lots of sports students have their social nights out on a Wednesday and they almost undoubtedly end up in Rock City. It's advised to buy tickets for this event as both universities is Nottingham are allowed at this event.
On Thursdays you will see a lot of freshers heading to 4play at Forum, or Dive at Market Bar. If you consider yourself a "Gangsta" however, you can go to Gold Teeth at Bodega for your weekly fix of garage and hip hop music.
Fridays are particularly busy in Nottingham because you get the locals out in the clubs too… But don't worry, some nightclubs still run nights exclusively for students. Ocean (don't get this confused with Oceana) is the biggest student night on a Friday, and they host the biggest end of year party you could ever imagine with tickets selling out months in advance. You can also check out Bopp at Pandora's Box for some classic rock or Dollop at Stealth for some dubstep and electro.
If clubbing isn't really your thing then you can go for a pint in your local with your new buddies. It's not like you will be short of places to go in this city! Most places are open late and hold events like open mic, comedy evening and pub quizzes, so finding something to your taste shouldn't be hard. You can also have a look at your chosen universities student union bar to see what they have occurring as they are bound to offer non-alcohol events for those more "sophisticated" students.
So, What Do You Think?
We have told you everything you need to know about studying in Nottingham, did you like what you read? Good! Now you can start your university course search with Coursefindr to see what courses are available in Nottingham. We wish you all luck!
---