The Ultimate Guide To Studying in Newcastle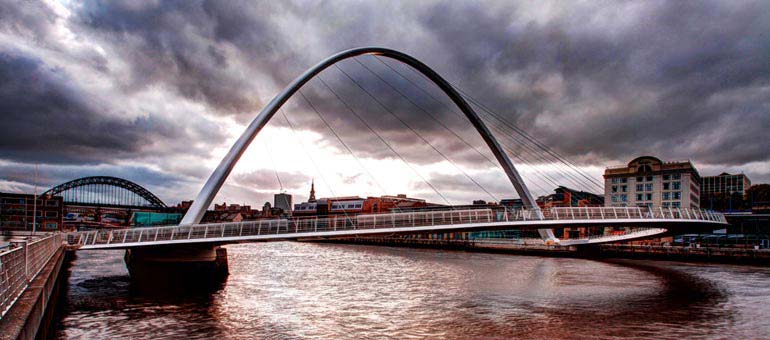 Newcastle, WHY AYE! Now, you may have already heard of Newcastle Upon Tyne because of the MTV show Geordie Shore, or for the links it has with the wool trade and coal mining… Aside from all the things Newcastle is famous for, it is also a great place to study. The city is home to two universities, and has a total student population of over 80,000, meaning you would never feel out of place.
If you are considering studying in Newcastle but not quite sure about the city, I bet we can change your mind! Once you have read this article you will know all about the universities in Newcastle and what you can expect from the city. Go on then, start reading…
Universities in Newcastle
Newcastle is one of the biggest student cities in the UK, with over 80,000 students choosing to study here each year. These students are enrolled at either one of the two universities in the city:
Newcastle University
Being a red brick university and part of the Russell Group, Newcastle University is a highly regarded institution with over 175 undergraduate full-time degrees available. Although the University is not campus based, the city is home to many student halls of residences within a reasonable distance of the university. Newcastle University currently ranks 37th in the latest Guardian university league table rankings.
Northumbria University
This University has a campus in the heart of Newcastle Upon Tyne, as well as a campus 3 miles from the city centre, both linked by a free bus service. Northumbria is currently ranking 50th in the UK and has been ranked in the top 50 universities in the UK for teaching and research excellence.
With over 500 courses organised into 20 departments, you will be able to find a range of courses within the subject area that takes your fancy.
Fee's, Living Aspects & Student Finance
So, you want to go to university but you are worried you won't be able to afford it? Don't worry, that's where student finance comes in! You will be able to apply to have your course fees covered by student finance as well as get extra money for living expenses. Although, it can be a very long process and oh so tedious, it is worth it when you have a nice bank balance to start your freshers off in style. To find out more about student finance and to start your application visit the GOV website.
If you are looking to study at Newcastle University and want to live on campus you will have to apply to one of their campus halls of residence:
Grand Hotel
Kensington Terrace
Park Terrace
We thought you might also want to know that Park Terrace, a halls of residences at Newcastle University, was voted the 9th best halls of residence by students this year! Find out more with our article: Top 10 Student Halls.
If you are interested in living in the centre of Newcastle you can also apply to one of their 16 other halls around the city. Prices range from £78.89 to £151.83 per week depending on the type of room you want to live in.
Alternatively, if you are looking to pursue your studies at Northumbria University you will be applying to one of their 11 halls of residence. They also provide different room types which are priced accordingly, including a pricing plan at Claude Gibb halls with a catered option. Yes, you heard right, catered. Can you imagine that? Going to uni and getting all your food made for you…
General Info About Newcastle
Travelling to Newcastle can be incredibly easy by train and by car. Newcastle Central Station is accessible by many train lines running from London's King Cross, Glasgow and Edinburgh. From London the journey time is approximately 3 hours. It only takes about 10-15 minutes to walk to both universities from Central Station. There is also a metro system that runs throughout the city.
If you are travelling by car you will have no problems finding the universities; you just need to make sure you end up on the A1(M) going north and you will pass close by to the city centre. Simple!
Are you a serial shopper? That's good, as Newcastle is one of the hot-spots for shopping in the North. They have endless amounts of high street shops in their two Intu centres, along with even more along the streets of Newcastle. You can even find designer boutiques and independent shops throughout the city.
There is a tonne of places to socialise in Newcastle, whether you want to pop out to a cafe for lunch, have a few drinks at the local, or sip on a sophisticated cocktail, Newcastle has it all. Along with specialised restaurants and bars, of course, they also have your standard chain restaurants so you don't have to miss out on your Cheeky Nando's.
Events, Venues & Points of Interest
Newcastle Upon Tyne has loads to see and do, not to mention being home to the largest sculpture in Britain; The Angel of the North. During your university time you may want to take a look at the local points of interest and get involved with some of the cities events to get the real Newcastle experience.
If you are into music then you should pay the Sage Gateshead a visit. There are 2 main stages, and many genres of music have been staged here, including pop, rock, classical and even folk.You can get into the building for free, so if you are bored one afternoon and strapped for cash, why not pop down and explore!?
If football is your thing and you don't despise Newcastle United, you can always go and see a home game at St James' Park, or get a deeper look at the magnificent grounds by booking a stadium tour.
There are also many cultural places to visit in Newcastle including Alnwick Garden, Hatton Gallery, and Washington Old Hall. Prices vary, but generally speaking most places do offer a student discount, so remember to take your student card!
For those of you that like to get out and about and take part in activities you will be pleased to hear that you can get fully stuck in at places such as the Life Science Centre, The Great North Museum, and the Biscuit Factory. Hold on, don't be fooled by the name, it is just an art gallery and not really where biscuits are made…
If you enjoy festivals then you are in for a treat. The Hardwick Music Festival takes place in August with headlining acts such as Razorlight, and tickets are as little as £25. Another festival close by is the Lindsfarne Music Festival, due to take place in September, in Northumberland. It is a niche two day camping event with tickets starting at £50.
What About The Nightlife?
The bit you have been waiting for… the club scene! If you have ever watched Geordie Shore then you will already know how crazy the nightlife is in Newcastle. But it gets even crazier if you are a student. During the week there is a student night every night. Yes, every night.
Sam Jacks is a popular student venue in Newcastle and offers free entry all night every night. Their student nights are held on Mondays and they also hold the Newcastle University Athletics Union night out every Wednesday.
For a fancier night out you can try Florita's; a Miami Bar and Tropical Garden. Their big student nights are on a Monday and Tuesday, with music themes being commercial, RnB, electro and some disco classics.
If you are into hip-hop, dubstep and RnB you can head down to Tup Tup on a Thursday for their event Lovedough. There are many other clubs to check out in your uni years including Attic, Mood, Liquid and Digital to name a few.
Don't like partying? Not to worry, there are many pubs and bars that accommodate for the more sophisticated student. Newcastle is home to loads of sports bars and cocktail bars so finding a venue for your occasion shouldn't be hard.
So, What Do You Think?
We told you that you would love it! Newcastle is an all rounder amazing place to study with two universities for more choice of courses. The nightlife is buzzing and the city is vibrant, what more could you want from a university city?
Start your course search with Coursefindr today to find your perfect course in Newcastle!
---