The Ultimate Guide To Studying in Sheffield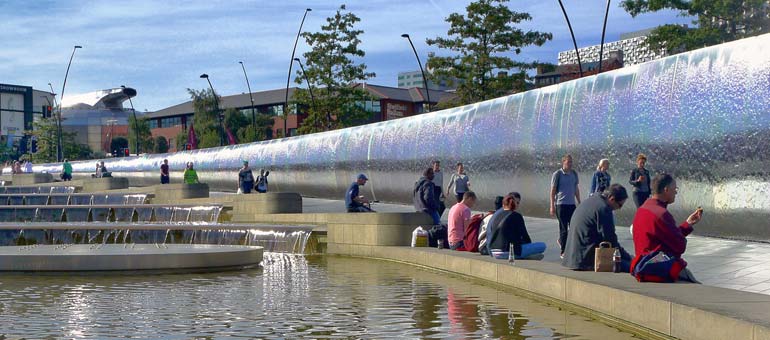 Ah, Sheffield. The birth city of the Arctic Monkeys, Jessica Ennis-Hill and Sean Bean from Game of Thrones. This city definitely has talent! Sheffield is located in South Yorkshire and a third of the borough crosses over into the Peak District. Also, did you know that Sheffield is commonly referred to as the largest village in England? But, it is a city. Confusing we know.
So, what makes Sheffield so special when it comes to university life? Well, for starters, 10% of the population in Sheffield is aged 20-24 due to the amount of students. But apart from this raw fact we have a tonne of other reasons that you should be studying here. This is why we have created your Ultimate Guide to Studying in Sheffield!
Universities in Sheffield
Sheffield is home to over 60,000 students across 2 universities. The city's two universities are:
University of Sheffield
The institution currently ranks 41st in the UK and offers courses from 5 main faculties. They are also home to the best student union in the UK, consistently coming out on top 5 years in a row. The university is campus based meaning you can do, literally, everything on campus. But you are in Sheffield, so staying on campus all the time would mean missing out on a lot.
Sheffield Hallam University
Also located in the heart of the city, Sheffield Hallam is one of the biggest universities in the country with over 33,000 enrolments each year. There are many halls of residence on site for first year students. The university has 4 main faculties including the Sheffield Business School, so finding a course won't be too much bother! Sheffield Hallam University currently sits at 86 in the latest Guardian league table rankings.
Fees, Living Aspects & Student Finance
Want to go to uni but think you can't afford it? Think again my friend. Student Finance is a life saver and covers your university costs. Not forever obviously, you have to pay it back when you are in a graduate role. For more information about student finance you can visit their website here: https://www.gov.uk/browse/education/student-finance
One of the most expensive parts of university is the living arrangements. As first year students you will almost always go into halls of residences amongst a huge group of people like yourself; lonely, excited and bewildered.
The University of Sheffield offer on campus and off campus halls of residence, at both their Endcliffe and Ranmoor campuses. The Endcliffe campus offers accommodation for around 3,500 students with the majority of the rooms having self catered facilities. On the other hand, the Ranmoor campus has mostly en-suite and studio rooms and only caters for around 1,100 students. A further 1,200 students live in the city centre halls of residence which are mostly en-suite and self catered. You can expect to pay around £5,500 for a years worth of accommodation in halls of residence.
We thought you might also want to know that Stephenson Hall, a halls of residences at the University of Sheffield, was voted the 8th best halls of residence by students this year! Find out more with our article: Top 10 Student Halls.
If you are planning on studying at Sheffield Hallam University and want to live in university halls, you need to make sure you apply early as they only have 2 halls of residence; Bramall Court and Charlotte Court. Prices start at £94.50 and can go up to £106.74.
General Info About Sheffield
Luckily for students who are planning on commuting, Sheffield Hallam is located directly opposite the train station and bus station, making it easy to get to from many surrounding areas.The University of Sheffield benefits from having a tram stop right outside which is linked to the city's tram network. For those travelling from afar, or visiting home, Sheffield Train Station has regular trains to multiple locations in the UK including London St Pancras International, Newcastle, Glasgow, Liverpool and Norwich. For students with cars, you can also get to Sheffield relatively easily using the M1 and the M18.
Sheffield is home to 280 retail stores at their Meadowhall shopping centre located just outside of the city centre, so if you ever need to splurge on a new wardrobe we recommend you go there. On top of shopping facilities, Meadowhall also has spa services, a cinema and a dining quarter. If you have a car, you can get to the shopping centre really easy and parking is free. But don't worry if you don't drive, you can catch the Tram which stops here too.
As a student you are bound to want to eat out, and it's good to know that Sheffield is overcrowded with gastro-pubs and cafe's. You'll also find a lot of high street pubs including Wetherspoon's. There are plenty of bars to keep you satisfied too including the popular bar "All Bar One" serving 2 for 1 cocktails during happy hour.
Events, Venues & Points of Interest
Sheffield is full of arts, culture and heritage that you simply have to see before you finish your degree. There is an O2 Academy, hosting acts like Years & Years, Ella Henderson and The 1975. (Top tip: the O2 Academy is hosting a Freshers Headphone Disco on the 22nd September)
There is a bunch of art galleries and museums for you to explore, with most of them having free entry, and if heritage and history is your thing then you can look forward to visiting The Shepherd Wheel, Abbeydale Industrial Hamlet and Sheffield Manor Lodge.
In August the Motorpoint Arena hosts the Sheffield Film and Comic Con. Celebrities who have previously attended the event include Robert Englund, the actor who played Freddy Krueger, Billy Dee Williams from Star Wars, and Peter Purves from Doctor Who. Tickets for this event start at £4.40, with the most expensive being £16.50.
If you enjoy comedy then you won't want to miss the "Last Laugh" Sheffield Comedy Festival
In October. The event takes place throughout the city centre with many venues hosting their own comedy nights, so don't hesitate getting involved!
If you are planning on staying in Sheffield over the summer months you can look forward to other events that take place throughout August; one being Oktoberfest. Entry is free throughout the week, and you only have to pay £5 to get in on the Saturday. Basically, Oktoberfest is 1,500 people in a tent drinking good beer, eating good food and dancing to good music.
What About The Nightlife?
And for the bit you have been waiting for… student nights on the town! We have some great news for you: there is a student night pretty much every night!
On Mondays you can head down to the Leadmill for their weekly event SHAG, apparently the most infamous and loved night in Sheffield. They have 2 themed rooms for party floor fillers and indie rock & roll. Drinks start at 60p (yes you read right, 60p) and it only costs £3 to get in for students.
If you are more into hip-hop, dubstep and drum and bass then you should get yourself ready for the Tuesday Night Club at the University of Sheffield Student Union. The night has been running for the last 10 years so they must be doing something right!
Wednesday nights are best spent at Corporation's Skool Disco, and you even get free entry if you dress in school uniform. You can JUMP AROUND at Plug on a Thursday in their three rooms of varied music, with drinks from £1 and entry from £4. If you prefer an "Indy" night out then Friday is your night at Propaganda.
Clubbing isn't for everyone though, so if you would prefer a few quiet ones with your mates, you can explore Sheffield's extensive list of pubs and bars. You can also visit the student union bars on their quieter nights to chill out and watch live sports.
So, What Do You Think?
We've told you everything you need to know, but if it was just all too much for you to take in at once we can recap the most important points now. There's two uni's, a student night every night, plenty of things to see and do, a massive shopping centre and it's located in an easily accessible part of the country. Sorted.
If you are interested in studying in Sheffield, why not search for your perfect course in Sheffield with Coursefindr today?
Photograph courtesy of Sheffield City Council
---