A Solo Student's Guide to Food Shopping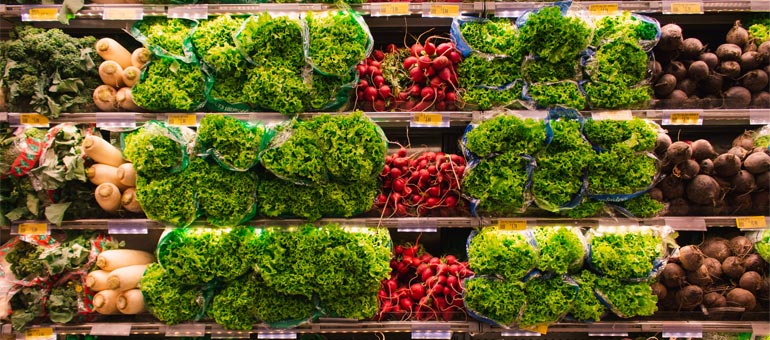 Food shopping as a solo student in the United Kingdom can be an intimidating experience, but with a bit of preparation, you can make the most out of your budget and time. Here are some useful tips to help you navigate the world of food shopping.
Plan Your Meals and Create a Shopping List
Before setting out on your shopping trip, create a meal plan for the week and make a detailed list of ingredients. This not only helps you stay organised but also saves time and money by minimising impulse purchases.
Remember to check your pantry and fridge for items you already have to avoid buying duplicates. You could also consider making meals that will provide more than one meal, if you would be happy to eat the same thing more than once.
Choose the Right Store
The UK has a variety of grocery stores ranging from budget-friendly options to more expensive, higher quality ones. As a student, it's essential to choose a store that aligns with your budget. Here are some popular options:
Tesco: With a wide range of products and competitive prices, Tesco is a popular choice among students. They also offer a Clubcard for added discounts.
Sainsbury's: Known for their fresh produce and quality products, Sainsbury's is another option to consider. They offer a Nectar Card rewards program.
Asda: Asda offers low prices and a broad selection of products. The Asda Price Guarantee ensures that if your shopping isn't 10% cheaper than Tesco, Sainsbury's, or Morrisons, they'll give you the difference.
Aldi and Lidl: These discount supermarkets offer more limited selections and fewer branded products, but are known for their low prices on groceries and household items.
Where possible, try to avoid shopping at the corner store equivalents to the major supermarkets. They carry a more limited selection of produce and items, and don't normally offer the same money-saving deals.
Make the Most of Loyalty Cards and Student Discounts
Many supermarkets in the UK offer loyalty cards or reward programs that provide discounts, points, or cashback on purchases. Tesco's Clubcard, Sainsbury's Nectar Card, and the My Morrisons Club are some examples. As a student, you can also take advantage of student discounts at participating retailers, such as the Co-op, which offers a 10% discount with a valid NUS card.
You can also find other student discount schemes across the internet. These include Student Beans and Unidays.
Buy Own-Brand Products
Food shops often have their own brand products that are more affordable than popular name brands. These products can be of equal quality, so don't be afraid to give them a try. Asda's Smart Price and Sainsbury's Basics lines are just a few examples.
Shop During Off-Peak Hours
Shopping during off-peak hours, such as late evenings or early mornings, can help you avoid long queues and ensure a better selection of fresh produce. Additionally, stores often apply reduced prices to produce nearing their expiration date towards the end of the day, giving you a chance to save some more money.
Embrace Seasonal Produce
Buying fruits and vegetables that are in season not only ensures better quality but can also save you money. Familiarise yourself with the seasonal produce calendar and adjust your meal plans accordingly. Local markets stalls or greengrocers can be a great source of seasonal, fresh produce at reasonable prices.
Utilise Online Shopping and Delivery Services
Most grocery stores offer online shopping and delivery services, allowing you to order groceries from the comfort of your home. This can be particularly helpful when you're short on time or don't have easy access to transportation. Tesco, Sainsbury's, and Asda are some of the major supermarkets that provide this service. Be sure to watch out for delivery fees, and try to schedule your delivery during off-peak hours for lower charges.
Bulk Buy and Freeze
Buying non-perishable items and freezer-friendly foods in bulk can save you money in the long run. Items like rice, pasta, and canned goods have long shelf lives and can be purchased in larger quantities when on sale. For fresh produce, meats, and dairy products, consider freezing them in portion-sized bags or containers for future use. This not only prevents food waste but also provides a handy stash of ingredients for quick meals during busy weeks.
Be Smart About Food Waste
Minimising food waste is both environmentally friendly and cost-effective. Plan your meals to utilise leftover ingredients and be mindful of portion sizes to avoid cooking too much. Store perishable foods properly to extend their shelf life, and keep an eye on expiration dates. When in doubt, your freezer can be your best friend – freeze leftovers, bread, and other perishable items to avoid wasting food.
Cook with Friends and Share Expenses
Cooking with friends or flatmates can make meal preparation more enjoyable and cost-effective. By sharing the cost of ingredients and splitting the leftovers, you can save money and reduce food waste. Additionally, cooking in larger batches can be more efficient, and you may learn new recipes from your friends.
By following these tips, solo students in the UK can make the most of their food shopping experience. Planning ahead, choosing the right store, taking advantage of loyalty programs and discounts, and being mindful of waste can help you maintain a healthy, budget-friendly diet throughout your time at university.
Search for degree courses.
Search for masters courses.
Search for online courses.
---