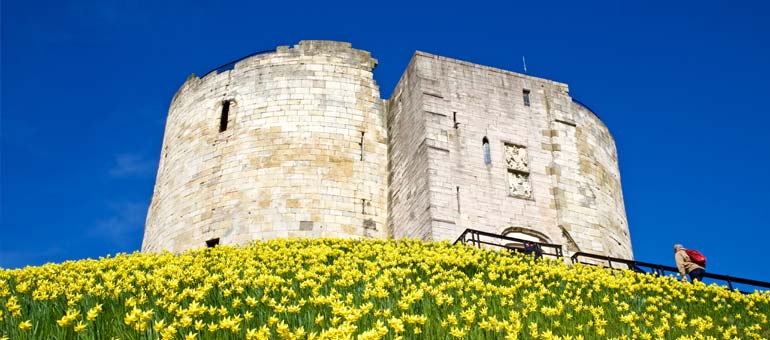 Boasting a range of historic attractions, York naturally has a rich heritage. The city is completely walled and is the county town of Yorkshire. So what makes York so special for students? Well, there are two universities and a lot of attractions!
If you are considering student life in York, we can assure you that by the end of this article you will be convinced that York is the student city for you.
Universities in York
York is home to almost 25,000 students, with the majority belonging to the bigger university. The two universities in York are:
University of York
Located just 5 minutes from the city centre, the University of York provides their 16,000 students with one of the best academic and social experiences. The University currently has a ranking of 19th in the UK and is consistently ranked highly for research and teaching.
With over 30 departments organised into 3 faculties, the University of York is bound to have a course to suit your interests.
Read more about the University of York
York St John University
The University is based on 11 acres in the city centre of York and over the last 10 years has undergone a £100 million transformation to improve the quality of the campus for its 7,000 students.
The University is relatively new, with the institution being named "York St John University" in 2006. There are many departments and faculties for students to explore, with many buildings and facilities allocated to each subject area.
Read more about the York St John University
Fee's, Living Aspects & Student Finance
Ah, fee's. Most of the people put off going to university are deterred because of the costs, I mean, who can realistically afford £9,000 each year just for course fee's? Well, this is where our friend Student Finance helps us out. Not only do they cover the cost of your course fee's, but they also provide money for maintenance. For more on student loans read our ultimate guide to student loans.
If you are planning on studying at the University of York, you can apply to live in halls of residence either on campus or very close to the campus. There are a variety of room types ranging from the most basic being single rooms with shared bathrooms, to the most premium being a deluxe flat with en suite bedrooms. Below is a short list of some of the halls of residence you can choose from, and the prices range from £103.11 to £167.65 per week:
Alcuin College
Constantine College
Derwent College
Goodricke College
We thought you might also want to know that Langwith College, a halls of residences at the University of York, was voted the 10th best halls of residence by students this year! Find out more with our article: Top 10 Student Halls.
On the other hand if you are planning on studying at York St John University you can apply to live at one of their 8 halls of residence. The prices generally range from £4,160.08 to £7,294.80 per year, depending on the type of room you opt for, and the contract length you need.
General Info About York
York is perfectly located for students wishing to travel from afar both by train and by car. You can jump on a train from London and arrive in under 2 hours. You can also travel directly to York from cities such as Liverpool, Manchester and Birmingham. York also benefits from being only 20 minutes from the core motorways; M1 and M62.
If you are commuting to the University of York from a surrounding area you can pick up the UoY66 bus service from the rail station which stops directly outside the Heslington East Campus. You can also use this service, as well as the ub.1 shuttle bus service, free if you are travelling between the different areas on the Heslington Campus. Alternatively, if you are travelling to York St John University you can use the local bus services from the rail station to reach the university. Alternatively you can opt to walk the 20 minute journey through the city centre and take in the picturesque scenery.
The streets of York are flourishing with high street branded shops as well as boutique style independant stores. Whether you are looking to buy, or looking for a job, York has plenty of retail opportunities for students. If you are more into designer clothing or bagging a bargain, you can visit York's designer outlet centre which is just outside of the city. You can also find a range of markets that take place all year round in York, with traditional farmers markets to standalone jewellery and accessories stalls.
York is home to a range of restaurants, cafes and bars, with plenty of choice to suit everyone's needs. There are a variety of different cuisines on offer including the Chinese restaurant; Red Chilli, Italian restaurant; Carluccio's, and Mexican restaurant; Plunkets.
As well as your traditional cafes, you will also find many tea rooms offering afternoon tea and an excellent selection of cream cakes. The most famous tea room in York is Betty's, located on St Helen's Square with packages starting at £32.95 per person for Lady Betty Afternoon Tea.
If tea and cakes aren't your thing then you can check out the extensive list of bars and pubs that York has to offer. You can find many traditional pubs with amazing home made food in the lanes of York, including the likes of The Yorkshire Terrier, The Deramore Arms and The Punch Bowl.
Events, Venues & Points of Interest
As York is known for it's historical qualities, there is endless amounts of sightseeing and educational activities to be done. Ultimately, you are at the university for 3 years, and you can't leave without seeing the most important things in York!
For those who enjoy the culture filled events, you won't be short of activities to cram into your weekends. York Minster houses some of the world's greatest treasures and has been named one of the world's most magnificent gothic cathedrals. As a student you are entitled to discounted entry to the Minster for £9, and to visit the Tower you will have to pay an extra £5, but this is also a student rate.
Clifford's Tower is another key attraction in York due to being a symbol of the power of the Medieval King's. The tower was originally built by William the Conqueror, before being burned to the ground twice. Henry the III rebuilt the tower in the 13th century, and it is now open to the public to explore. Tickets for students are as cheap as £4, so this is one to definitely consider during your uni years in York.
There are many other museums throughout York including the Railway Museum, Castle Museum, and the Yorkshire Museum.
In August the city of York hosts the JORVIK Medieval Festival; taking you back to the Middle Ages during the Summer. You will have the opportunity to try archery, see birds of prey in action, and watch knights go to battle.
For foodies there is the Food and Drink Festival in September, with daytime and evening events. You can expect to see chef demonstrations, take part in wine and food tasting, learn some new tips during cookery school, and explore the stands around the festival. Each event has it's own price, and standard entry to evening events can be more expensive.
What About The Nightlife?
So you are thinking traditional city equals boring nightlife right? WRONG! York has an amazing nightlife for students. Depending on the university in York that you choose, your nightlife will vary, as each union will arrange different student nights.
If you are thinking of applying to York St John you will expect to go out to Stone Roses for pre drinks and end up in Kuda Lounge. Kuda is a three storey nightclub with a Tiki Bar in the basement, and a VIP lounge on the top floor. And to add to all this excitement you can grab yourself some food after your night out at the Subway which is right outside the club!
On a Tuesday any students in York can attend the biggest student event, Skint, at Salvation. You can expect £1 drinks and great music; including a dance floor exclusively for 90's music. Salvation is also open on a Friday with their event Koh Samui. This is an island paradise night out with plenty of cheap drinks and deep house music. Students can also use the shisha bar upstairs on this night out.
The only place open on a Wednesday for a mid week fix is Tokyo with their event Frat House. Undercutting the market, their drinks are just 99p and it's open till 3:30am for all students in York.
On a Friday students can head down to Phat Fridays at The Duchess and take advantage of the £1 spirit and mixers and £2 Jaegerbombs.
Sounds pretty cheap doesn't it?
So, What Do You Think?
We have given you the full de-brief and you should now know everything about studying in York. If it was too much for you then we will quickly go over it again. If we really, really, have to. (Sigh) Two universities, loads of heritage, international cuisines, markets, cheap living, and most importantly, student nights galore.
Now that you know all about York, get searching for your perfect course in York with Coursefindr!
---